Sofia Richie Grainge recently showed her 3.4 million TikTok followers how to achieve her signature sleek bun straight out of the shower. The Angeleno's "lazy-girl hairstyle" tutorial has since racked up 28.2 million views.
One of the benefits of working with still-wet hair is that "you can do a quick style if you're in a rush," says Kathleen Riley, the pro behind Richie-Grainge's wedding weekend looks. Perhaps the speed and control afforded by slick strands is why pros at shows like Khaite, Sandy Liang, and Jason Wu opted for dewy knots, glistening mermaid waves, and sodden side bangs on the Spring 2024 catwalks.
While you can't exactly step out of the shower and walk down the aisle, red carpet, or runway, there are easy ways to get the look—and none require a blow dryer. Keep reading to find out how to come through drippin'.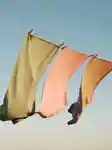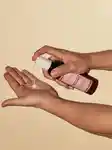 Don't start with sopping strands. Instead, blot freshly washed hair until it's damp with a cotton t-shirt or a microfiber towel (such as the
Aquis Flip
). Next, apply a leave-in conditioner, oil, or serum from roots to ends to add moisture. If you want to swap in a hair mask, avoid formulas that bill themselves as "restructuring" or "bond-building," says Los Angeles hairstylist and associate trichologist Jill Lee. Ingredients like keratin and protein can cause hair to look dull if overused and make it more prone to damage, she adds.
"Hair has more elasticity and is more flexible when wet but it's also more fragile," says Lee, noting that those with fine or Type 4 hair should be especially careful when styling. Once a leave-in conditioner, oil, serum, or mask is applied, gently detangle with a wide-tooth comb or a brush (such as the
Tangle Teezer Fine & Fragile Wet Detangler
). Start from the ends of your hair and slowly make your way up to the roots.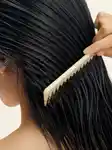 Cocktail
To create the wet look minus the crunch, celebrity hairstylist Shelby Swain uses a combination of light- and strong-hold formulas to achieve a just-dipped effect. Backstage at the 2023 Grammy Awards, the pro chopped Lizzo's hair into a bob and applied leave-in conditioner, gel, and oil for the perfect balance of hydration, hold, and shine. Dubbed the Beyoncé of baby hair by her A-list clientele, Swain also suggests styling edges to "complement the natural shape and contours of the face" as well as your "clothing and jewelry design."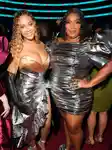 Use a brush (preferably one with boar and/or nylon bristles) to "slick everything down" and a fine-tooth tail comb to sculpt and divide strands, says Lee. Three easy ways to wear the look:
For a sleek chignon: Get Richie-Grainge's bridal bun using Riley's technique. Start with a center part, then create two front sections by dividing strands behind each ear. Gather the rest of your hair into a low ponytail and secure with a fabric band (like those from Slip). Use a brush to slick the front sections back and join them with the pony, securing each side with a no-snag elastic. Twist or braid the tail, wind it into a bun, and pin in place.
For glossy curls: Rake a curl serum through strands with a wide-tooth comb or fingers and follow with gel to seal in the shape and lock out frizz. Define curls by wrapping them around your finger to create ringlets, says Lee. Allow hair to air-dry. If your texture has a tendency to "shrink," Swain recommends applying a shine mist or oil as needed.
For a sexy slick-back: Apply oil and gel. Brush both formulas through hair to evenly coat strands. Rake hair back with a fine-tooth comb, add more oil for extra sheen, and set with hairspray.
Repair
When you're ready to hit the shower again, use a
scrub
to gently remove product build-up. Treat your scalp to a massage while you shampoo, which can help relieve tension and increase blood flow, says Lee. (Allow
Ceremonia's Scalp Massager
to give you a hand.) The pro also recommends giving hair a break between tight, slicked-back styles. Wearing the look on repeat could lead to traction alopecia, a type of hair loss caused by the constant pulling of hair.