It's all Gucci – Gucci Westman, that is. At home in New York, the revered makeup artist gives us the inside scoop on her collection, her starry clients and her Sex and the City cameo.
When it comes to painting faces, Gucci Westman is the illuminator. Equal parts painter, magician and mathematician, she excels at blending the perfect measure of pigment and luminosity, so that you notice the woman, not her makeup. The New York-based makeup maven has been in-demand for two decades: backstage at fashion shows, behind the scenes at magazine shoots and as a creative adviser for several beauty brands. Jennifer Aniston, Anne Hathaway and Julianne Moore are all regular clients, and when Gwyneth Paltrow was married in 2018, she tapped Westman to do her makeup. That same year, Westman launched her own colour range and the beauty world raised a manicured brow.
Westman Atelier is a tightly edited collection available at MECCA. A modern take on no-makeup makeup, it offers plant-based formulas, second-skin finishes and skincare benefits. It marries natural ingredients, like hydrogenated coconut oil, with advanced actives that soothe reactive complexions. The packaging is notable too. Behold stick format foundations, blushes and a highlighter, enveloped in custom-made grey and pink tubes that recall vintage atomisers. Westman's eye for detail is also on display at her majestic five-bedroom apartment on Central Park West, where she lives with her husband and business partner, David Neville and their three children. On a recent bone-chilling day in Manhattan, Westman invited The Memo into her home for a glimpse at her world.

I've always sought to amplify a woman's skin as opposed to masking it or transforming it.
TMM: You've long been known for creating dewy complexions. How did that become your signature?
GW: "Everyone has ownership of dewiness, but it's something I've always loved. I've always sought to amplify a woman's skin as opposed to masking it or transforming it. I've always preferred to make it as beautiful as I possibly can, and bring out elements of real skin. In fact, I use two shades of
foundation
when I do skin, because in that way you're able to keep a little more integrity of the actual skin. One is your shade, and the other is a little warmer so you can adapt to the seasons."
Why was it important to you that Westman Atelier be a purpose-led brand?
"As a little girl, I remember drinking a Shirley Temple with red maraschino cherries in it. But before I could take a sip my mother took the cherries out and said 'Oh, you can't have that. It has red dye in it.' Back then I never really understood, but dyes are often made from heavy metals and can lead to allergies and other issues. I'm not a chemist but I would prefer to take precautionary measures against synthetic dyes. In my line, I use a patented technology called biomimicry for my blushes and contours to protect your skin from synthetic colours."
Can you talk about dealing with rosacea and how that informed some of the products?
"Well, rosacea sucks. It's really frustrating and, while I don't have a solution, I wanted to create something that not only covers it but has skincare benefits and
active ingredients
that are going to calm and soothe uneven skin tone and inflammation. A lot of us suffer from inflammation, intestinally or, if it's on your skin, it shows up in different ways, and I wanted something that would really deal with that and that wasn't a lie."
Why do you prefer stick formats? And is it true you encourage applying them without a mirror?
"I learned to do makeup with sticks, so it was intuitive for me. There is something that is very much on-the-go with sticks and this complexion system is like a wardrobe for your
makeup
. It's very precise. It's very edited. It's really what you need to begin your beautiful makeup routine, as opposed to 5,000 products that you don't really need, and the sticks are easy and effortless. While you can do it without a mirror, you probably would prefer to have one. It's more that it's under five minutes, for sure. All of my Instagram videos are one minute long."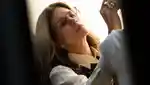 In terms of application order, I read that you tend to go blush or contour, foundation, bronzer, and then highlight. Is that correct?
"I start with
moisturiser
always, but you don't necessarily have to follow an order these days. That should be clear. I think women are used to starting with foundation, so that's maybe second nature, but there is something to be said about starting with
highlight
and then doing your foundation. It gives you this ethereal finish and allows you to play with the textures and finish of your skin a little."
You've long worked with actresses including Jennifer Aniston and Anne Hathaway. Did you use them to test your prototypes?
"Yes, of course. Constantly. I would try my products on them and I knew I was headed in the right direction based on their feedback. Jen loves everything. She loves the
bronzer
, she loves Baby Cheeks Blush Stick in
'Poppet'
, she loves [the shade]
'Dou Dou'
, and she loves
Super Loaded Tinted Highlighter
. The whole line allows you to create her kind of amplified skin. Anne likes the Super Loaded Tinted Highlighter, too, and she really loves the blushes. They all love the brushes so much. They're made by the oldest brush maker in the world in Kumano, Japan."
You did Gwyneth Paltrow's wedding makeup in 2018. How was that?
Can you talk about your skincare regime? Which products do you turn to on a daily basis?
"Well, I'm always trying new brands, including those that use science, but I try to stick with brands that are naturally-derived and avoid silicones. I love exfoliating, I love skincare, I love body products but I can't use too many products with essential oils. I have to be careful with my rosacea because some things can make me react. Lately, I've been using
REN Clean Skincare
, but I've heard really good things about
Abhati Suisse
,
Kat Burki
and
Goldfaden MD
."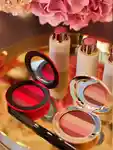 What does your nighttime regime look like?
"I'm always trying different things, so there's not a lot of consistency at the moment. We're also making some
skincare
, so I'm trialling different wipes and a new kind of complexion product. We are looking at different formulas, so I'm always testing what we're doing. I want to keep our brand very curated and I'm proud of the fact that it is small. It doesn't need to be overwhelming. I think that too many choices can make people really unhappy."
How do you and David work together?
"David is a brilliant wingman. Honestly, I couldn't think of a better business partner. His knowledge, his relationships that he developed at [fashion brand] Rag & Bone – he's just very savvy at many things. I stick to what I know, which is the formulas and he is good at forcing me to make decisions quicker than I would like to sometimes, but I need that."
Do you see the line expanding to other categories?
"We named it Westman Atelier to be able to expand, you know, into a lifestyle direction if we wish to do so. I'm more a lifestyle makeup artist than many of my peers. I'm not on shoots every day. I love food and wellness. I love home interiors. I love all of those things."
In terms of beauty trends, what are you not a fan of?
"I'm not a fan of too much influence from Instagram. There are too many filters, too much of that. I'm sensing a shift. It's becoming more about authenticity."
Lastly, what was your cameo in the Sex and the City movie?
"Well, if you sneeze, you miss it. The same day I was supposed to film, I got asked to do the Yves Saint Laurent show and I had to turn that down because Anna Wintour wanted me to represent Vogue on the movie set. Basically, they were shooting Carrie Bradshaw for a cover of Vogue and I was there for 16 hours. But I owe Anna everything, she gave me so much, and I completely respect her vision."