Decades as a Hollywood A-lister on and off film sets and magazine shoots has made Gwyneth Paltrow a very experienced consumer of beauty products - with high expectations to match. Having founded what is now the lifestyle and wellness brand Goop, Paltrow's journey began with a focus on the ingredients in many beauty products. Eventually, this convinced her that she needed to start her own skincare line,
goop
, with an emphasis on stripped-back, high-performance formulas.
I'm a big believer in a good night's sleep, great sex and the power of exercise
What 'purpose-led beauty' means to Gwyneth Paltrow:
Goop's vegan-friendly products (a refresher on 'vegan-friendly': the range includes vegan products, although not all are vegan) are formulated "without a long list of ingredients linked to harmful effects," says Paltrow. "Our own line of skincare felt like a natural extension of the goop brand, and I love our products, which are luxurious [and] efficacious." She adds, "We have a robust clinical testing protocol to ensure the efficacy of the products we develop."
So, what will you find on goop's ingredients lists? Plant-derived actives like Kakadu plum - the world's richest natural source of vitamin C - hydrating aloe vera juice, hibiscus flower acids and bakuchiol (also known as the 'retinol alternative' for its ability to reduce the appearance of fine lines and texture), to name a few!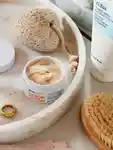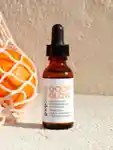 Her favourite goop product for fast results…
Says Paltrow, "[The] GOOPGLOW Microderm Instant Glow Exfoliator is one of my favourites, and the results are instantaneous. Inspired by microdermabrasion treatments, this dual-action exfoliator delivers the benefits of both physical and chemical exfoliation. After just a few minutes, it polishes away roughness and smooths uneven texture, revealing a glowing complexion. It's a powerful facial in a jar, and I'm obsessed."
Looking to target dullness and texture? Give this one a try! Exfoliating minerals including garnet, quartz and silica give it a satisfyingly sand-like texture (sans irritation), while glycolic acid helps cleanse pores and sweep away dead skin cells. Meanwhile, Kakadu plum delivers a dose of brightening vitamin C.
Her favourite goop product for long-term benefits…
Paltrow's pick is the GOOPGENES All-in-One Nourishing Face Cream - a whipped AM and PM moisturiser that quickly melts into the skin. "The super-cream formula is made with a megadose of plant-based ceramides plus seven highly active botanicals... to keep skin nourished, smooth, firm, even-toned and glowing," Paltrow says.
Also a MECCA favourite, this rich cream - enriched with illipe butter and schisandra fruit - is designed for all skin types (yes, even oily and acne-prone), but dry and mature skin will absolutely drink it up! It leaves skin feeling softened and moisturised overnight - but the real difference is noticeable after four weeks. Think: firmer and smoother-looking, plumper and brighter!
If she was a goop product, Gwyneth would be...
...One that works quietly hard while we're sleeping and is all about the enviable Gwyneth Paltrow glow - the GOOPGLOW 15% Glycolic Acid Overnight Glow Peel. "Inspired by professional chemical peels, these intense exfoliating overnight acid peel pads do all of the work to refine, retexturise and brighten skin while you are sleeping. In the morning, you wake up refreshed with glowing, radiant skin," she says.
Face, neck, décolletage and shoulders are all fair game for this smoothing concoction that brightens, tightens and refreshes. With a 15 percent concentration of glycolic acid, it has a powerful exfoliating effect, while vitamin C-rich Kakadu plum brightens and three types of hyaluronic acid provide soothing hydration.
Beyond products, Paltrow's beauty tips are…
"I'm a big believer in a good night's sleep, great sex and the power of exercise," says the actress-turned-lifestyle mogul. And, it's comforting to know that even Paltrow can succumb to her vices. "I certainly don't eat clean for every meal - I love French fries and Japanese whisky - I [do, however] find that whole foods are transformative for my energy levels and good skin."