Terry de Gunzburg knows what women want before they actually know what they want.
A former medical student turned makeup artist, de Gunzburg completed a summer course at the Carita Institute in Paris, later returning to the famed beauty school as creative director. Countless students passed through Carita's doors during her 10-year tenure, including François Nars and Laura Mercier. She is the mastermind behind some of the world's favourite cult beauty products, including perhaps the most famous of them all: Yves Saint Laurent Touche Éclat Radiant Highlighter.
A lesson in simple chic, the founder of the luxe By Terry brand is also a passionate art collector, resident of two cities (Paris and London), mother/stepmother to seven children, and by her own admission, a compulsive shopper. The MECCA Memo happily trailed behind her on a trip to Melbourne in the hope that we'd crack the French style code. At one of our favourite fashion haunts, South Yarra's Le Louvre, Terry skilfully navigated racks heavy with the latest in statement Balmain blazers and Valentino dresses while entertaining us with tales of her time with the late, great Yves Saint Laurent and oui, her secret to nailing effortless French style. [Cue heavy Parisian accent.]
For me, mixing colour is like music, like composing a symphony.
Her first job out of beauty school was for Vogue
"I worked with Helmut Newton, Guy Bourdin, Patrick Demarchelier..." and her favourite model, Linda Evangelista, who "has such a versatile quality. And the shape [of her face]? Everything is amazing."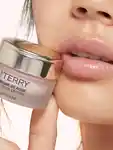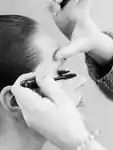 On working with Yves Saint Laurent
"Yves taught me that there is no wrong colour and no wrong combination, but the intensity and luminosity can be wrong. It's all about balance; to create the perfect beige he always added a hint of pink and a hint of pale blue to make it more alive, and this is the secret to the shades of my foundations. For me, mixing colour is like music, like composing a symphony."
Well-heeled friends are the best kind of friends
De Gunzburg counts both Manolo Blahnik and Christian Louboutin as dear friends. Such good friends, in fact, they send the style maven shoes on the regular. (How do we get in on this group chat?)

The secret to effortless french style
"I think every woman should own a classic white top, a cotton shirt or a simple silk blouse. It's always a winner for when you have no idea what to wear. A crisp white shirt, high heels and red lipstick - that's effortless French style. And black mascara. A French woman would never go out without black mascara." "It's very basic and very confident. The Parisienne, they're not at all beauty or fashion victims; they don't care for trends. They [just] believe they can do it better than you!"
Follow your intuition, do what you want to do but… go beyond the boundaries of your possibilities.
Never underestimate the power of a bold lip
"Red lipstick is like high heels - it gives you 'face language', like body language."
"First attract light, then reflect glow. I always include pink and coral [pigments] in my products. They diffuse light and make you glow. Even if you don't see the colour, you see the glow. There's no life without light."
The best advice she's received
"Follow your intuition, do what you want to do but... go beyond the boundaries of your possibilities."
On her next 'touche éclat' level gamechanger product
"My Rouge-Expert Click Stick is absolutely revolutionary and something very unique. It's a 3-in-1: a pencil, a balm and a matte bold lipstick. To create it I looked to my Velvet Rouge, my
Baume de Rose
(I call it the Rolls Royce of lip balm), and my
Light Expert
(the all-in-one). I wanted texture, volume and something very pointy on the top that you can contour the lips with. It's perfect for on-the-go and so easy to use; you don't need to spend 10 minutes fiddling with a brush and a pencil. And you know, to come up with the real innovation it takes years. This was five years in the making and I think it will revolutionise how women wear makeup, just like in 1992 when I created the Touche Éclat."