Introducing 'Behind The Beauty'; your key to the homes, boutiques, studios, cities, gardens, offices and labs that bring to life the world's most iconic beauty brands. Guided by the founders, formulators and leaders of the industry, we're taking you with us around the world for a private tour that explores the origins, inspirations and day-to-day operations of your beauty favourites.
This time we're at Rue Bonaparte, Paris – the home of Officine Universelle Buly's first-ever store, dating back to the 19th century. Husband and wife duo Victoire de Taillac and Ramdane Touhami brought the Parisian apothecary back to life after it was originally established in 1803 by renowned perfumer Jean-Vincent Bully.
In this instalment of Behind The Beauty, de Taillac sheds light on the stories of Buly's coveted formulas and aesthetic, and how the brand came to be (again) today. Skip the long line of travelling tastemakers and beauty editors to peer into the famous boutique and experience the store's global influences, terracotta floors and intricate woodwork panels that contribute to Officine Universelle Buly's ethos of bringing heritage back to the world of beauty.
Hit play to discover how the brand is bringing the golden era of French beauty and fragrance to the present day – the Parisian way.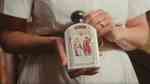 Video Credits:
Director/Producer: Kerri Gordon
Production company: TENFOLD
DOP + Cameras: Luke Graham + Andi Thompson
Producer: Izzy Herbert
Gaffer: Ken Sody
Sound: Donal Sweeney
Production assistant: Tiphaine Le Gorrec
Editor: Luke Graham
Mixer: Andy Watson
Colourist: Jack Kibbey Newman