This holiday season, as part of MECCA's ongoing support of women in the Arts, we've collaborated with the National Gallery of Victoria (NGV) and Yankunytjatjara artist Kaylene Whiskey to wrap your gifts in pure joy.
Inspired by kungka kunpu (strong women), Whiskey's works are the visual manifestation of her love for pop culture, her Anangu roots, and the happiness that creativity provides.
Visiting Kaylene in her hometown of Indulkana, we got a glimpse at Kaylene's wonderful world – rich in family, culture, dance and performance.
Whiskey's paintings are filled with irreverent humour, bringing together traditional culture with the contemporary experience of the younger generations.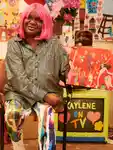 I wanted young girls to see my art and see themselves, strong and proud kungkas, looking good and feeling happy!
Whiskey's work is truly inspiring. The beauty of wonder and creativity, of celebration and togetherness, of kungka kunpu and happiness – the kind that shimmers and glows from the inside, out – radiates from all of her works.
We are so proud to feature such a talented artist, and to bring the same joy to the gallery that we hope this partnership brings to you, we will be contributing to the NGV's acquisition of a Kaylene Whiskey masterpiece. Visit the Ian Potter Centre: NGV Australia, Fed Square, free entry.
Our limited-edition Kaylene Whiskey Holiday gift boxes and bags will be available from October 31, in-store and online with any MECCA purchase.