It's the season of end-of-year parties and holiday celebrations, which means two things: a whole lot of late nights in your most glittering, shimmering, photo-ready makeup – and skin that will need some serious TLC!
There's no-one who knows both like the Queen of Glow herself, Charlotte Tilbury, and the world-renowned makeup artist has passed on her wealth of knowledge to her nieces, makeup artist Sofia Schwarzkopf-Tilbury and model Bella Broekman-Tilbury.
Here, they share how they keep their complexions smooth, hydrated and lit-from-within – using Charlotte Tilbury skincare of course! – creating the perfect canvas for party season makeup.
What is your skincare routine, morning and evening?
BB-T: "I have dehydrated, breakout-prone skin, so both my AM and PM routines start with Glow Toner to gently exfoliate and refine the look of pores, followed by Magic Serum Crystal Elixir to smooth and brighten. For my everyday moisturiser, Charlotte's Magic Water Cream is perfect for me as it delivers that iconic Magic Cream glow while intensely hydrating my complexion (without clogging it)."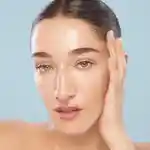 SS-T: "My skin is on the drier, more sensitive side, so my morning routine starts with Magic Serum Crystal Elixir to create that smooth, plump, hydrated base, along with Cryo-Recovery Eye Serum to depuff my under-eyes. I finish with Charlotte's Magic Cream and an SPF50 primer layered over the top.
"At night, I focus on rich layers of hydration – Magic Serum, followed by the retinol-infused Magic Eye Rescue, and then applying the deeply hydrating new Magic Water Cream, topped off with my Magic Lip Oil."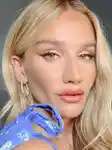 Sofia Schwarzkopf-Tilbury.
How does your skincare routine work with your skin type and concerns?
BB-T: "I've always struggled with blemish-targeted products, as I often find them stripping and drying. Instead, I look for formulas infused with niacinamide, plus super-hydrating ingredients like hyaluronic acid and polyglutamic acid – Magic Water Cream has been a game-changer for me."
SS-T: "The key in my routine is addressing dryness and redness. Like Bella, I love formulas like Charlotte's Glow Toner and Magic Serum, as they're infused with niacinamide to help refine the look of pores, and I use Magic Cream daily to give me that instant 'skin turnaround' effect. My complexion loves the rich, moisturising texture."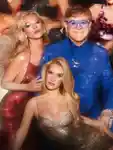 Sofia with Kate Moss and Sir Elton John for Charlotte Tilbury's Holiday campaign.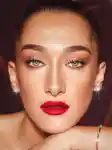 Bella for Charlotte Tilbury Holiday 2023.
What are your skin prep must-haves for a special occasion?
SS-T: "When I'm working with clients like Amal Clooney and Lily James before the Met Gala, Golden Globes or Oscars, Bella Hadid before a big shoot, or even Britney Spears on her wedding day, I always send them a selection of Charlotte's masks ahead of time. They give you that otherworldly radiance you see on every red carpet!
"I'll send the acid-exfoliating Super Radiance Resurfacing Facial to gently melt away dead skin cells, deeply hydrate the skin, and create a polished, marble-like glow and the Goddess Skin Clay Mask to help soften, refine the look pores and reduce the look of redness."
What's your most ground-breaking skincare discovery?
BB-T: "That oily skin often means that you have dehydrated skin as well. I need formulas that replenish my skin's hydration levels without clogging my pores."
SS-T: "The magic of a facial massage. I always take the time to energise my clients' complexions with a five-minute facial massage to help sculpt and contour the look of the face, and finish with the 'Tilbury Tap' method to encourage micro-circulation. Also, it's super important to take your skincare down over your neck, décolletage and onto your hands too!"
"I go through a super-size bottle at least once a month. It does it all – brightens, smooths, plumps, and hydrates."
Sofia Schwarzkopf-Tilbury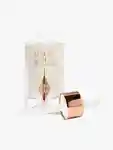 How do you prep your skin for everyday makeup?
SS-T: "I love using Charlotte's immediate skin revival routine. Press on Glow Toner to gently exfoliate and cushion your skin with moisture, then take Cryo-Recovery Eye Serum (I like to store mine in the fridge to enhance that cooling sensation!) and gently massage to depuff, smooth and brighten.
"Follow with a quick facial massage using Magic Serum Crystal Elixir. Focus on the centre of the face, then massage outwards using your thumb and forefinger to create 'hooks' to contour the jawline and cheekbones. Finally, Charlotte's Magic Cream is the ultimate backstage beauty secret; I use this on every celebrity, on every red carpet and runway. Your skin and your makeup always look better when using Magic Cream!"