With a name that exceeds its reputation, Tom Ford is the epitome of sophistication, luxury and glamour.
If you haven't yet experienced the pure magic that is Tom Ford Beauty, here are our top five picks to get you started.
As a legendary fashion powerhouse, in-demand film director and exquisite beauty arbiter, Mr Ford has always believed that beauty comes from revealing your most glamorous and inspirational self, and indeed, that glamour and inspiration is built into every single beauty product the brand creates. From instantly iconic scents with a high fashion flair and lush lipsticks that drench lips in pigment, to flawless second-skin foundations and high wattage nail lacquers, they allow anyone and everyone to achieve fearless glamour with bold impact. And, of course, because it's Tom Ford we're talking about here, even the packaging is stunning, with vessels and pots and quads made to be admired and appreciated.
Now, this is a lip colour that'll turn heads. It's everything you always look for in a lipstick: creamy, long-wearing but still comfortable, and loaded with rich pigment that saturates lips in bold colour with just one swipe. Ingredients including soja seed extract, Brazilian murumuru butter and chamomilla flower oil create an ultra-plush texture with an incredibly smooth application.
Every shade in the range has serious appeal, from bare nudes to deep browns and rich berries to pretty pinks, with each hue representing Tom Ford's own modern ideal of an essential makeup shade. Our personal favourite? We can't go past the deep, intoxicating shade of 'Scarlet Rouge', a truly timeless red that everyone should have in their lipstick arsenal.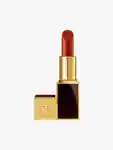 An example of Tom Ford's propensity for risqué and provocative names, this warm gourmand scent is sure to turn heads with its playful-yet-seductive effect. The inspiration here was contrasting the candy-like shine of a delectable red cherry, with the luscious flesh on the inside. Mission accomplished. This alluring scent starts off fresh, with notes of ripe black cherry tempered by bitter almond, before settling into a sweetly-spiced, cherry-vanilla-woody experience that lingers on skin.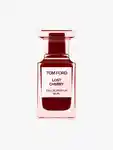 Four colours: the ability to achieve endless looks. This highly-pigmented and ultra-dimensional eyeshadow quad features complimentary shades in a variety of finishes, from sheer sparkle and satin, to matte and shimmer. The 'Nude Dip' and 'Honeymoon' shades in this palette feature one-of-a-kind technology that wraps concentrated pigments for a highly polished, multi-dimensional effect. Try applying these as they are, or with a wet brush for a bold, foil-like effect. As the name suggests, this quad is definitely dancefloor-appropriate, but don't be afraid to dip into the still-wearable neutral shades during the day.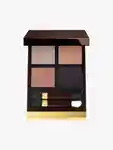 With a nod to England's old-world private gentlemen's clubs, this absolutely modern scent has become a classic. With that signature Tom Ford twist, it takes tobacco and pairs it with creamy tonka bean, cocoa, dry fruit accords, sweet wood sap and, of course, warm vanilla, for a decadently powerful parfum.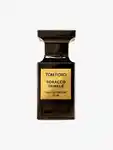 Didn't we tell you Tom Ford packaging is a standout? Look at that matte-black-and-faux-leather flacon! Stunning. And inside is pretty spectacular, too: a juxtaposition of rich black leather and soft florals (think violet and jasmine), plus a dose of patchouli, amber, moss and vetiver for good measure. It all makes for a warm, woody and spicy scent that's sure to turn heads.