Buying a new fragrance, or finding your signature scent, can be daunting.
It's likely to be one of the greater investments in your beauty kit, and is the one that most closely crosses paths with your personal identity. To your friends and family, a signature scent might even become an innate (and nostalgic) piece of who you are.
A 'good' fragrance can't always be determined by price or brand name alone, and isn't dependent on a certain set of notes. Here's how to identify a great one for you.
Traditionally, more complex, layered fragrances are of a higher quality than those of a single note (although there are exceptions). On an initial spritz, a single note fragrance might smell similar to the top notes of a more complex fragrance, however once those top notes dry, you'll likely find the richness and 'body' of the scent (created by those middle and base notes) to be absent.
Think of it like this: top notes are like looks, or your first impression. They are the very first thing people notice, but the heart (the middle notes) is what makes you who you are. Base notes are then your lasting impression – the way you make someone else feel. These notes are often softer, warmer, or woodier and the final note you smell. This is the true olfactory experience.
Take Le Labo's bestselling (and hipster-lauded) Santal 33. A woody aromatic, the scent itself is uniquely linear, with Australian sandalwood dominating from start (top) to finish (base). Although it might lead and linger all the way through, sandalwood isn't the only note contributing to the popularity and remarkability of this fragrance. Along its travels from top to base, you'll brush shoulders with leather, cardamom, iris and violet.
Maison Francis Kurkdjian's Baccarat Rouge Extrait, however, is just as loved as the Bacarat Rouge 540 Eau de Parfum but with more power and intensity; top notes of floral jasmine and saffron settle into a heart of amberwood and ambergris, with a soft, woody base of cedar. While both scents promise a unique and transforming experience, the Extrait de Parfum offers a higher concentration of the notes compared to the lighter the Eau de Parfum.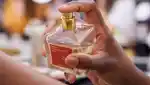 While the perfect balance of notes and strengths is crucial in creating a popular or well-loved scent (one that's not flat nor overpowering, and perfect for all day wear), it's the oft unmentioned balance of ingredients, natural and synthetic, that play a large part in producing a great fragrance.
On average, a fragrance has between 40 and 60 ingredients, and in most cases, there is a ratio of around 70 percent synthetic to 30 percent natural ingredients. We've long formed a negative connotation to the term 'synthetic', but it's not one to snuff in the fragrance world. In actuality, synthetic (or rather, lab-born) ingredients are likely the reason you're so drawn to your favourite fragrance. Simplified molecules, derived and synthesised from naturals, are the literal essence of synthetic ingredients, which can be used to heighten the impact or experience of some naturals. In some cases, it can even make them smell more natural.
Rose is a great example of this. The flower's oil is naturally quite bitter and earthy rather than sweet and floral. To recreate the true effect of inhaling a just-bloomed rose, a good perfumer will more often than not work their magic in the lab. You can experience the outcome of this in Byredo's Rose of No Man's Land EDP and diptyque's Do Son EDT.
Purification of these ingredients also means that a non allergenic, skin-friendly molecule can be produced. A synthetic ingredient might have five potential allergy-causing elements, but a natural may have a thousand.
Just as no one wants an overbearing fragrance, no one wants one that disappears within the first hour of wear. More often than not, superior, well-crafted scents will go the distance (premium ingredients will, by default, last longer on your skin), which is something to consider if you're tempted to look for a mass-produced 'dupe'.
Your body's own chemistry and natural oils also play a crucial part in the wear of a fragrance, so one that might last all day on a friend might not serve you to the same extent. Testing a new fragrance before committing is crucial, and a far better guide than any online review.
As oils linger longer than water or alcohol, an oil-based eau de parfum is your first port of call if you feel a current eau de toilette is disappearing on your skin. Take Floral Street's Electric Rhubarb EDP, which is formulated with 20 percent oil concentration to deliver on longevity.
Uniqueness and authenticity
A good personal fragrance will have a certain 'je ne sais quoi' – you'll smell a particular scent on someone and not know why you love it or feel a certain way about it, but just do. Editions de Parfums By Frédéric Malle's Uncut Gem EDP, Maison Margiela's By The Fireplace EDT and Le Labo's aforementioned Santal 33 are great examples of this.
Funnily enough, the secret to an inherently good fragrance is not dissimilar to RuPaul's qualifying criterion for being a drag queen; they must have charisma, uniqueness, nerve and talent. A scent – no matter its notes or ingredients – must be charismatic, making you and those around you feel confident and comfortable, lingering in impression. With such a close connection to our memories, a good signature scent must be unique and identifiable – Maison Margiela's Replica collection , created to recall aromas embedded deep within our memories, thrives on this. As for nerve and talent, this comes through in the brand – its story, processes, noses and gusto. It's worth reading up on industry disruptor A.N. Other and synthetic single-noter Escentric Molecules who epitomise this.
We touched on the role of body chemistry lightly, but the way fragrance molecules react differently with everyone's skin means that they can often smell quite different on each and every person. Escentric Molecules' scents were actually created to enhance this. Body temperature and moisture levels also play a part in the way a fragrance smells on you, with scents coming off as noticeably stronger in more humid environments.
The biologically personal nature of fragrance makes it difficult to identify an objectively good fragrance; at the end of the day, 'good' is subjective. Just as you might love certain foods, smells, or textures that others detest, your personal fragrance preferences are just that – yours. (I, for one, despise coriander but would happily douse myself in D.S. & Durga's Coriander EDP.)