There are many benefits to owning an eyeshadow palette.
There's the obvious — instead of multiple individual eyeshadow pans, you get a bunch of shades in one organised palette. There's also the fact that an eyeshadow palette is both helpful and practical. The line up of complementary shades take the guesswork out of choosing between colours and make it easy for makeup novices to master eyeshadow. Plus their compact nature makes them easy to travel with. For those looking to be more creative with their eye looks, many palettes come in a mix of finishes, from shimmery to satin or matte smoky eyes, so let's add that to the 'fun' list.
But what's the best eyeshadow palette for you? We've curated a list of ten very excellent, very versatile palettes that are worthy of being added to your beauty bag.
Best neutral eyeshadow palette
If, like the rest of the world, you know and love
Charlotte Tilbury's
iconic
Pillow Talk lipstick
, then you'll love this: a collection of four neutrals designed to work together. There's a mix of matte and metallic shades — dusky rose, berry brown, rosebud pink and rose gold — making this a must-have for any effortless look.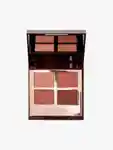 Best day and night eyeshadow palette
Whether you're wanting to craft a subtle daytime look or full-blown evening glam, you get the choice of warm and cool tones in matte, satin and metallic finishes with this one. It covers all bases and each shade is finely milled to deliver rich colour payoff with buildable intensity and smooth blending. A dream!
Best travel-ready eyeshadow palette
Whether you're in a minimalist or a maximalist mood, there's a mini palette for you. Blendable and highly pigmented, these cute sets of six pans are packaged in complementary shades — from warm sunset hues to flatter-everyone neutrals — and in a mix of finishes, including shimmers and mattes.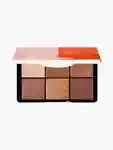 Best warm neutral eyeshadow palette
From the brand that inspires waitlists all over the globe comes this bestselling palette of 12 matte, shimmery and glittery amber-toned shades. Think: warm brown, shimmering copper and terracotta orange, all in velvety and creamy pigment – and with a full sized mirror and double-ended brush, too.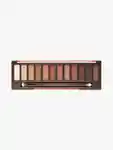 Best skincare-infused eyeshadow palette
As the name suggests, this palette is a necessary addition to anyone's makeup bag – it's cute, compact and super blendable, while the nourishing formula (hello, jojoba seed oil and vitamin E) makes it skin-friendly. The minimal fallout and large mirror are two more reasons this is a favourite.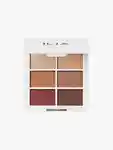 This is a cult palette for a reason: it enhances all skin tones, is highly-pigmented, blends seamlessly and contains the perfect edit of modern nudes, flattering mattes, sultry metallics, shimmers and sparkles.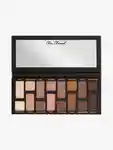 Best jumbo eyeshadow palette
Yes, it's big, but that just means more colours to play with! This contains a mix of wearable warm neutrals to suit any style, whether you go full beat or just a hint of something. It's everything you need to highlight, blend and transition without ever wearing the same look twice.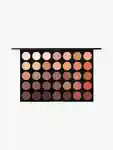 Best multi-use eyeshadow palette
We're not sure what we love more: the fact that each palette is inspired by an exotic destination, the vibrant and velvety-rich pigment that delivers one-swipe colour payoff, the variety of finishes, or the fact that each powder also doubles as eyeliner? How about all of the above?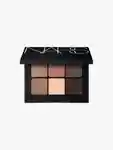 Best luxe eyeshadow palette
These palettes by Hourglass contain five matte and shimmery shades that work perfectly together to contour the eyelids and build up colour with ease. The finely-milled, ultra-smooth texture allows for seamless blending and application, so you can achieve an artistry-approved look every time.