So, you're preparing for the most incredible adventure of your life. No, not Euro summer – we're talking about the journey to parenthood!
In the same way we can't always guarantee every moment of a holiday will play out as per the itinerary, we also can't anticipate every aspect of the birth experience. As much as we might love to be able to gaze into a crystal ball, it's just not possible. What is possible, however, is ensuring you have everything you need to make your stay as comfortable and calm as it can be.
That's the strategy MECCA's own Head of Creative, Sam Ziino, is adopting as she counts down the birth of her first baby. "I'm relinquishing control as that seems to be the key – except over-packing," she tells us, adding "I'm typically a 'let's-risk-not-having-what-we-need' style of packer, aka the person who forgets their toothbrush – but with the help of my uber-organised partner, we're prepared, packed and ready to go."
Whether your bag has been packed since the first trimester or you're happy to throw everything together at the first sign of baby's arrival, take inspiration from Ziino's elegant but easy hospital bag essentials (beyond the regular toiletries) to carry you from contraction to that first car ride home.
And when we say 'essentials' we mean it – Ziino's minimalist approach means the only beauty items making the cut are those that are already part of her current routine "for simplicity, comfort and a bit of normality in the most non-normal of experiences." (Even for the most experimental of beauty lovers, trying a new suite of products will be the last thing on your mind!)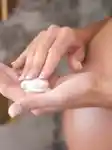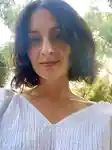 Those who have been there before will attest to the fact that keeping the skin on your body adequately moisturised during pregnancy is no easy feat. Ziino has been testing the nourishing body care line (powered by plant-derived ingredients) from PURE MAMA, which has just launched at MECCA. "I've been using the PURE MAMA Belly Oil on my tummy every night," explains Ziino, adding, "It's a beautiful oil, smells great, and keeps the tightness at bay." [Editor's note: this makes a fantastic gift for expecting mums, too!]
Then there's that first (transformational!) post-birth shower. While a full body scrub or a hair mask is likely not top of mind, you'll be thankful you packed a luxe body wash – let's face it, those industrial hospital formulas aren't always kindest on skin. "I'll be packing my favourite kit: Wellness Wash — a gentle and nourishing body wash to counteract that sterile hospital feeling ," explains Ziino.
When it comes to beauty choices, Ziino always looks to cruelty-free and brands that prioritise sustainable practices, which "has been handy, in that it's meant not too much change from my everyday routine to pregnancy routine," she explains.
What has changed, however, is how her skin feels. "During pregnancy (and also over winter), my skin felt dry, dull and more sensitive than normal. I found the Kate Somerville Kx Active Concentrates Squalane + Hyaluronic Serum helpful for locking in moisture. I start with this, fresh out of the shower, alongside the MECCA COSMETICA Replenishing Niacinamide Serum – also a great addition for counteracting the redness and fine lines that I noticed were more present, having dropped my [other skincare] actives [during pregnancy]. These will definitely be coming along with me."
"Then, my trusty Tatcha The Dewy Skin Cream – again, to combat all that dehydration and help give me a much-needed glow. I'll be bringing the travel-size version to hospital."
Pre or post-birth, there's probably not a lot of time to go full glam. Familiar, multiuse products that help you look (somewhat) put together in a single swipe are the best picks when it comes to makeup. "My everyday makeup routine is all about simplicity; I prefer lightweight, barely-there products, and I'll be leaning into this in hospital!" says Ziino.
"In-case of emergency, or if my tired eyes are needing some love, I'll have my Kosas Revealer Concealer on hand – it's nourishing and a great universal concealer. Also, my Rose Inc Cream Blush in 'Ophelia' for a bit of colour and life, for cheeks and lips.
"I'll also be bringing Tatcha's The Kissu Lip Mask. It's so nourishing and will help combat that dry hospital air," she adds.
Says Ziino, "My hair is a bit wild and hard to tame at the best of times – I'll be succumbing to this in the hospital and just bringing hair ties and clips. And if the timing gods are in my favour, ideally I will have used Living Proof's
No Frizz Shampoo
and
Conditioner
just prior to baby's arrival."
Our inclusion of products in Family Wellness are not intended to be a substitute for professional advice, and we recommend that you speak with your obstetrician, paediatrician or GP if you have any concerns regarding your particular circumstances.