It's 2015. You're on a YouTube deepdive, and you stumble upon one of the chicest beauty bloggers you've seen to date - makeup artist, Violette. From her first 'Bleu-apéro' eye tutorial, she's had us hanging on her saturated hues, matte red lips and lashings of glitter, the very medium that inspired her to pursue a career in beauty in the first place.

After a move from Paris to New York City, and years of hard work, Violette has been at the creative helm of some of the world's biggest beauty brands. She's been the International Makeup Designer for Dior, worked on product development for Sephora, and reinvented Estée Lauder's makeup offering as the Global Beauty Director. She's collaborated with world-renowned photographers and global mastheads, and most recently bought to life her biggest dream yet: launching her eponymous beauty brand, VIOLETTE_FR.
And in extremely exciting news, VIOLETTE_FR has just
launched at MECCA
! To mark the occasion, we're also welcoming Violette into the MECCA Collectiva. Her initiation? Sharing her biggest and best beauty secrets, her ultimate sources of inspiration, and her ride-or-die products (VIOLETTE_FR and otherwise).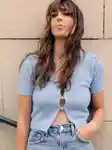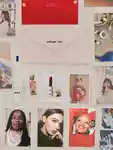 1. My ultimate beauty muse is...
"Nature. It's what touches me the most because it simply exists in nature - not to be beautiful or to please anyone's eyes, but to just be. I have seen so many of nature's wonders that left me feeling so humbled. I get a lot of inspiration from it."
2. The one beauty product I always come back to is...
"Boum-Boum Milk. There is not one day I don't use it for my morning and night routine. It's my life saver. Everything is replaceable in some capacity - it might not be as good, but it'll be good enough. But for me, nothing replaces this product."
3. My last great trip was to...
"Japan. I last went there in June 2023 and I fully immersed myself into Japanese traditions. It was incredible, I came back very inspired."

4. In my carry on bag, you'll always find...
"Boum-Boum milk, Avec Amour Oil Perfume, a notebook with a pen, and my laptop."
5. My go-to spot for a facial treatment is...
"Barbara Sand in Paris for her incredible Kobido face massages, and Raquel Medina-Cleghorn in New York."
6. My ultimate indulgence is...
"Indulgence means there's guilt which I try not to feel for anything that gives me pleasure or is necessary, like food! So I would say buying a piece of art at Amelie Maison d'Art - It's the one art gallery I just can't resist! - when I really should not be spending. I always think 'I shouldn't but... its art!' But it's such a great source of inspiration for me - that, and I am currently completing my art collection."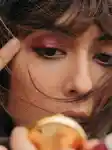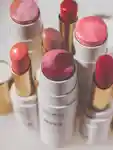 7. My latest beauty discovery is...
"This Tangle Teezer brush - I love this brush. I originally bought it for my kids, and I use it now for myself too as it is very gentle and efficient for detangling. The shape of the brush feels so great in your hand and makes it easy to use."
8. The one song I always play when getting ready is...
"Jardin d'hiver by Henri Salvador."
9. The last great book I read was...
"To be honest, with two kids and two jobs, I don't have too much time to read. But I recently started reading again, and rediscovered Her Lover by Albert Cohen for a project - I forgot how great it is! It was my favourite book as a teenager, and its aged beautifully."
10. The one scent you'll always smell in my home is...
"Diptyque's Ambre Candle."
11. My top 5 VIOLETTE_FR products are...