Get up close and personal with the biggest names in beauty and media – from global brand founders to boundary-breaking creatives, stars of the screen (and everyone in-between).
First up: Rosie Huntington-Whiteley. She's a supermodel, movie star, editor, beauty obsessive, mother-of-two, Founder and Chief Creative Officer of
Rose Inc
. – and a dream-come-true guest to warm the In The Chair hotseat.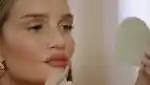 Direct from West Hollywood's historic Sunset Tower Hotel, hit play to discover the origins of Rosie's beauty obsession, the greatest compliment she's ever received and her unexpected celebrity crush – as her superstar MUA and BFF
Nikki DeRoest
recreates Rosie's signature rosy (of course), glowy makeup look.
Director/Producer: Kerri Gordon
Production company: YesYesOk Inc/Lakhota
Camera & Sound Director of photography: Pat O'Leary
Camera operators: Joe Quartararo and Matt Matossian
Gaffer: Sam Wilkerson
Sound: James Nolan
Makeup: Nikki DeRoest
Hair: Irinel De León