She's the queen of glow. Charlotte Tilbury's makeup has graced magazine covers, red carpets and the faces of some of the most recognisable Hollywood stars in the world.
From the impossibly creamy, dewy finish of her flawless foundations to the cult favourite Pillow Talk range, it's no wonder her products have garnered fans across the globe. Designed to be universally flattering and provide a natural (but better!) glow, the range is adored by everyone from Kate Moss to Jourdan Dunn.
And it's not just a celeb mainstay – Charlotte Tilbury has perfected the art of making anybody look lit from within. Tilbury may be the queen of glow, but she was awarded an MBE (Member of the Most Excellent Order of the British Empire – that's a mouthful!) by the Queen herself for services to the beauty and cosmetics industry.
With a range that covers everything from skincare to makeup, brushes and beyond, it's almost impossible to narrow down the best of the lot. You really can't go wrong with anything in this coveted range, but these top five are MECCA must-haves.
She may be a makeup artist extraordinaire, but Charlotte Tilbury knows that good skin starts from the base. Enter from stage left: her skin-illuminating base product, the appropriately-named Magic Cream. The first product that Tilbury ever created, Magic Cream really does live up to the hype (and the glow). Bridging the gap between a super nourishing moisturiser, a makeup-binding primer and a dewy illuminator, the bestselling cream plumps, hydrates, brightens and calms with Tilbury's blend of supercharged skincare ingredients. It adds a moistness to the skin that melts together with your concealer, foundation and cream or powder products to ensure a seamless, naturally radiant, skin-like finish that will make you double-take.
Wear it under full glam or alone with a touch of concealer where you need it – you will be just as impressed either way.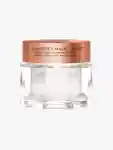 This product is unlike anything else in your current beauty rotation. Bringing social media filters to life, this lightweight illuminator feels serum-like in application, and adds a light-reflecting sheen to your skin that never appears powdery, glittery or 'sweaty'. Instead, it blurs the appearance of imperfections, smooths visible skin texture and makes you look like you drink 10 litres of water a day. Bare-faced never looked so good.
The way you use it is customisable too. Wear it underneath a high-coverage foundation for a more radiant, lit-from-within look; mix it into a matte foundation to transform its finish; wear it on the high points of your face for a highlighted effect or you can even wear it alone for a glowing no-makeup makeup look in record time.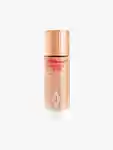 If it's full coverage you're craving, this foundation delivers in spades. As the name suggests, it provides an airbrushed, long-wearing effect that glides on with serum-like consistency and sets down on the skin for all-day coverage. Gently mattifying, it won't budge, even on
oily skin
or in humid climates. Waterproof, non-cakey and weightless, it's a firm favourite for a smoothing and blurring effect. And with this product, less is more. No need to apply liberally! It's beautifully buildable and the lightweight formulation provides incredible coverage with a satin finish. Available in a glorious 44-strong shade range, flawless is no overstatement here.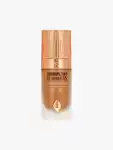 Can a lip liner spark a worldwide beauty phenomenon? It can if it's a Charlotte Tilbury Lip Cheat. One of these liners is sold every two minutes, and it's no wonder why. The nudey-pink shade 'Pillow Talk' has been spotted on the likes of Gigi Hadid, Sienna Miller and Suki Waterhouse to name a few. Salma Hayek has been seen rocking the deeper shade 'Pillow Talk Medium' and 'Pillow Talk Intense' is ideal for darker skin tones. With a shade to suit every lip lover, Lip Cheat is to lips what the white shirt is to wardrobes. It's a classic, staple, goes-with-everything and can't-live-without lip product.
This pencil is satisfyingly smooth, deliciously velvety, conveniently long-wearing, and the ultimate dupe for naturally plumped-looking lips. With a creamy, not-quite-matte finish, it defines lips for a fuller effect, while priming them for any lip product that follows, from a balm, to a gloss, to your favourite lipstick (which, after you try this pencil, will likely be the Matte Revolution Lipstick in 'Pillow Talk').
And since it's non-feathering and waterproof, Lip Cheat is well-deserving of the phrase that so often follows it: "worth the hype."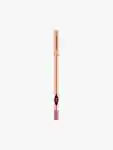 Ever wished you could walk around with a permanent ring light effect? Or perhaps the flattering glow of candlelight? Say hello to the Beauty Light Wand. A creamy highlighter inspired by Charlotte's desire to bottle the beauty lights of the red carpet, this product gives a pearlescent, illuminating glow without appearing sparkly or glittery, making it perfect for both day and night wear. Just ask the TikTok creators who made this a cult favourite product that hit sold-out status time and time again.
Softly reflective and infused with rose gold pigments and treated pearls, this is best applied to cheekbones and the high points of the face thanks to its cushiony sponge tip.