Although an icon by our standards, NARS founder and creative genius François Nars considers himself an iconoclast, a term combining the Greek words eikon, meaning 'image' and klastes, meaning 'breaker'. He's one of the world's most successful and identifiable makeup artists, rising to prominence in the early '80s after leading the artistry for Marc Jacobs' earliest shows, soon defining the look and feel of fashion photography in that period alongside close collaborators Steven Meisel and Oribe Canales.
Now, almost 29 years on from launching his eponymous brand with just 12 lipsticks, we're privy to hundreds of colours and formulas (and, of course, shade names) that never fail to tick all the boxes. In a very exclusive interview with The Memo, the makeup great talks creativity, the desires of his muse, the woman, and the almighty Orgasm.
Colours evoke a feeling, a sensation, an emotion, and sex and love is part of that.
The etymology of NARS' orgasm
It's almost ironic, the way even just the thought of the brand's (and the beauty industry's) most coveted blush makes you do just that, before you've even applied it. For Nars, "it was never meant to be overtly sexual."
"When I first created NARS blush," the mogul shared, "I wanted to give the shades names that evoked emotions and feelings. When you blush naturally, it is from a certain feeling and I wanted the names to be related to emotions." Some of them on the more provocative side, he admitted.
Orgasm "happened to be one of those names," but for Nars, it wasn't the physiological response of an orgasm, as much as it were the sentiment. "It's a metaphor for passion and pleasure—you can have an 'orgasm' in so many ways, watching a sunset, in front of a wonderful meal or smelling a fabulous perfume," he noted. "And I felt like it was a good way to actually get an orgasm, by just buying a blush, so why not? And I guess women out there got the message."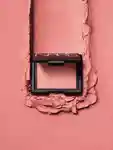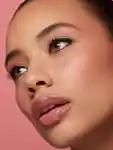 The creation of the shade itself
The bestselling blush has found its way into the makeup kits of millions since its inception. So what makes it more special than any other blush?
"I designed Orgasm Blush the same way I design all my colours," says Nars, nonchalant. "It just so happened that NARS fans fell in love. It didn't seem all that daring at the time, but everyone loved it." Those fans include Kim Kardashian, Meghan Markle and Emma Stone.
'Orgasm' was "created like any other colour," with Nars trialling a few iterations before finding the perfect shade and shimmer to suit all skin tones. Like so many of the products and colours he's developed for NARS, it was a product of the founder's adoration for art, music and film, which, at the end of the day, "all connect to love and sex": "Colours evoke a feeling, a sensation, an emotion, and sex and love is part of that," he explains.

Nars has always had a knack for knowing exactly what women desire (and understanding that they now know it too).
"There is so much more information out there about makeup than there was 25 or 30 years ago," says the French creative, who pioneered beauty — the textures, shades, images and words — as we know it today. "Women now know so much more about formulas, what a good lipstick should feel like, what shades are well-suited for them. When I first launched NARS, women relied on the makeup artist at the counter for recommendations."
Now, he says, the experience is more so influenced by what women have learned and discovered themselves, whether that be through trial, intrigue or online. "Beauty trends seem to vary more these days — thicker eyebrows, thinner eyebrows, dark lips, pale lips. Women wear all different kinds of makeup, or sometimes no makeup at all."
"When I think of Australian women," contemplates Nars, "I think of effortless beauty" — going as far to name a shade of his notably most effortless product, Pure Radiant Tinted Moisturizer, 'Sydney'. "The idea behind Pure Radiant Tinted Moisturizer was to create a product with a sheer weightless formula that allows your skin's unique qualities to shine through," explains Nars, adding, "Less is more – it is the core of my beauty philosophy."
"Not paying much attention to trends has allowed me to be more creative and truer to myself as an artist," he says. "Women in general know what they want and what makes them look good."
Balancing creativity and perfectionism
Having presented us with at least nine different iterations of Orgasm over the years (some powder, some cream, some for the lips, some for the eyes), it comes as no surprise that Nars describes himself as a perfectionist. "I am never satisfied,' he shared. "I am constantly striving to make NARS more perfect… But, looking back over the last 25 years, I am so incredibly proud of what NARS has become."
In those 25 years, we've not only been blessed with Nars' colours and formulations, but with his words and photography too, which, alongside makeup, he believes "go hand in hand."
"I love building an image," he says of the creative process. "I like to do as many creative things as possible. When it comes to naming our products, I love to think of places, films, music that has inspired me — it's just another way to give product an identity and pull the image together."
"We are constantly moving and looking forward, trying new things and pushing boundaries," the founder speaks of the past, present and future of NARS. "It's important to be open-minded and fresh, never boring. You can find inspiration anywhere!"