For makeup lovers everywhere, knowing your NARS complexion shade is like knowing your star sign.
The brand's legendary bases have inspired legions of devoted fans and if you're not converted yet, you soon will be. Created by beloved makeup artist François Nars, the brand's sleek packaging is as recognisable as it is adored.
But which one is right for you? From the lit-from-within radiance of Sheer Glow to the cult favourite Natural Radiant Longwear, there's something for everyone in this range of bases that counts everyone from makeup artists to supermodels amongst their fans. Here, MECCA's colour and artistry education manager Jennifer Horsley shares her expert guide to all five NARS bases, from shade range to application, finish and skin type compatibility. Class is in session!
The Light Reflecting Foundation was developed with photography principles in mind: reflective particles and nourishing ingredients combine to enhance skin both on and off-camera. "The Light Reflecting Foundation is really skin in its best light," Horsley explains. "The finish is breathable and natural – it's almost weightless on the skin – and the coverage is sheer to medium and very buildable."
Formulated with 70 percent skincare ingredients and available in 36 shades, the Light Reflecting Foundation is something of an all-rounder: "This foundation is really for anyone who wants amazing skincare benefits from their makeup; it blurs imperfections and smooths texture," says Horsley.
As for application? "I like to apply it with fingers and really massage it into the skin, starting in the areas where I need the most coverage and blending out," she reveals, adding, "If you love this foundation, you will love the Radiant Creamy Concealer and to finish, set your complexion with the Light Reflecting Pressed Powder."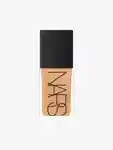 A perennial bestseller, the 40-shade Sheer Glow Foundation "really is a staple when it comes to complexion," says Horsley.
"It is, as the name suggests, a sheer, buildable foundation with a really natural finish that immaculately evens out skin tone. I love it because you can layer and layer, and mix it with anything! It looks beautiful under any light and is good for all skin types, though if you are on the extra oily side you might want to use it as your 'special event' foundation and not every day," she explains.
For a seamless application, Horsley recommends using fingers or a buffing brush to blend it into the skin. "I like to pair this with another NARS icon, The Multiple, to add colour and radiance to the skin," she adds.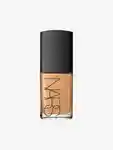 The heavy hitter of NARS' complexion range, Natural Radiant Longwear is all about power and performance, which is why it's a popular choice for special occasions, such as weddings and graduations.
"Radiant Longwear is a full-coverage foundation that delivers on long wear!" enthuses Horsley. "This will last all day and is fade resistant. It's super buildable and breathable with a natural finish, and it's oil-free so it's great for all skin types, but especially combination skin," she says, adding that the foundation comes in 34 shades.
"If I'm doing a look that I want to last, I like to apply it with a flat paddle brush and blend out for a flawless finish. I pair it with the Smudge Proof Eyeshadow Base so my eye makeup stays put as well as my complexion."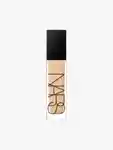 Matte lovers, rejoice! This 34-shade foundation really delivers – sans shine, dryness or caking.
"The Soft Matte Complete Foundation was born out of the perfection that is the Soft Matte Complete Concealer, which is a staple in so many makeup artist kits," explains Horsley.
"It's a full-coverage matte and really helps to balance oil, making it great for those with a combination or oily skin type who want a matte finish, but with hydration. It has great wear time as well. I like to apply it with a soft buffing brush for even coverage and pair it with the Soft Matte Primer to make sure my base doesn't budge."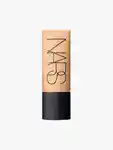 "This is my go-to for a 'no makeup' makeup look," says Horsley of the 16-shade Pure Radiant Tinted Moisturizer. "It is so hydrating on any skin type, but those with dry skin will adore it! You can build the coverage, but it always looks natural and radiant and never adds any texture to the skin."
Calling it "a must-have for everyone's 'foundation wardrobe'", Horsley applies the product "just where you need it" and melts it into the skin with her fingers. "It's perfect for the weekend or every day if you love a hit of hydration," she adds.