After a long day or week, nothing says 'rest, relax and reset' like a face mask. The staple of many a #SelfCareSunday and #GetReadyWithMe routine, everything from the cooling feel to the smooth texture to the serum-drenched hydration invites you – and your skin – to
chill out
and soak it all in.
One person who knows the value of a face mask? Camila Mendes. If you've Netflix'd at all over the past few years, you'll likely recognise her from long-running teen series
Riverdale
and hit movie
Do Revenge
(if not your TikTok For You Page – 3.8 million followers can't be wrong!).
Which is why the almost supernaturally glowy-skinned star is now Creative Director of
LOOPS
: the home of high-tech hydrogel sheet masks beloved by the likes of Emma Roberts, Vanessa Hudgens and Emily Ratajkowski (and freshly arrived on MECCA's shelves).
With their combination of powerful actives (think: bakuchiol, ceramides, jojoba oil, fruit enzymes and more) and non-slip format, each LOOPS mask is designed to target a specific skin concern and work in one 10-minute session – made for the 'in-between, getting ready and on-the-go moments'.
Here, Mendes shares her exact skincare routine (AM and PM), and the ritual she can't start her day without…
What's your approach to skincare, and how does this connect with LOOPS?
CM:
"My approach to skincare, and beauty as a whole, has evolved over time. I think, in the beginning, I was a huge believer in 'less is more' – and while I do still hold that belief, I also encounter moments in my life where I need a little more than just the basic products.
"Sometimes my pores are clogged and I need some
gentle exfoliation
, or my skin is super irritated and my barrier needs to be
supported
, or I just want a little
extra glow
before doing my makeup for a night out. Whatever the occasion, LOOPS have a mask that can meet me there."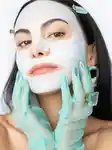 What's your first beauty ritual of the day?
CM: "My first and favourite beauty ritual of the day is rolling my face with a face roller, whether that's over a mask or directly on my skin. The obvious reason is that it depuffs my morning face, but I primarily love it because it just feels so cool on my skin and helps wake up my mind."

Take us through your AM skincare routine...
CM:
"I start by cleansing my face, then spritzing a gentle toner and letting that absorb for a few seconds. Then I either apply a serum or LOOPS mask, which would usually be
Sunrise Service
because it's depuffing and brightening, but it changes depending on the day and state of my skin. After that, a little moisturiser, sunscreen, lip balm and I'm good to go."
And what's your routine at the end of the day?
CM:
"The main difference in my evening routine is that after I cleanse and tone, I usually alternate products for the following step. It'll either be retinol, an exfoliant, or a LOOPS mask; sometimes I use a LOOPS mask right after the exfoliant if it's a soothing, reparative mask, but usually I stick to one product so that I don't confuse my skin with too much 'information'.
"After that, I moisturise, apply a lip mask and, once a week, I'll apply
Dream Sleep
as the final step of my routine. Not only does it help my skin absorb all the products I've already applied, but it also helps to support my natural skin barrier. It is, by far, my favourite LOOPS mask to date! Every time I use it, I always wake up with such healthy-looking skin and I get so many compliments throughout the day as well."