In addition to being one of the world's most successful, influential and recognisable beauty moguls, Kylie Jenner is also a true princess of pop culture; every outfit, lipstick shade and word she speaks sparks global obsession at a rate that only can be contested by, well, her other family members!
With Kylie Beauty, the A-lister and mother-of-two has not only launched Kylie Cosmetics – home to the products responsible for her transformational makeup looks (the work of the supremely talented Ariel Tejada or Jenner herself) – but also Kylie Skin – a collection of straightforward skincare designed to educate, inspire and equip young people with a self-care mentality.
Here, The Memo catches up with the icon herself to find out her secrets for hydrated, glowy skin and the life-changing advice she received from her mum, Kris Jenner.
I've always loved makeup and realising I could make a career out of it, was truly one of the most defining moments in my life.

The lowdown on Kylie Jenner's skincare routine
"Every morning I start my skincare routine with my Foaming Face Wash, to help remove any dirt or oils," shares Jenner, revealing that the wash (which foams from the pump but also creates a micro-foam texture once massaged into the skin) was the first product she knew she wanted in her skincare line and is her favourite - though it took the longest to perfect.
Next comes her Vitamin C Serum, which she loves to blend with hyaluronic acid for a hit of brightness and hydration. Jenner - who is admittedly 'obsessed' with bouncy, ultra-moisturised skin - then reaches for her Face Moisturizer, which, as one might expect, was formulated with makeup-wearers like herself in mind. Naturally, SPF always follows!
"At night, I'll go through my morning routine again, but will use my Hydrating Face Mask on nights I want some extra hydration," Jenner shares, adding that never forgets to nourish the rest of her body, "I always use my Coconut Body Lotion after showering to lock in moisture!"
Kylie Jenner's favourite skincare ingredients
"It's so hard to choose," the mogul says as she deliberates over her must-have skincare ingredients. "But if I had to, I'd say shea butter, kiwi seed oil and vitamins C and E, so my skin never goes a day without hydration and antioxidants."
Admitting her love for the ingredients and "how they combine to make [her] skin glow," it comes as no surprise that most of her products are practically brimming with them. As for the standout? "I just have to mention my Vitamin C Serum with tea extract," she says without missing a beat. "Obsessed."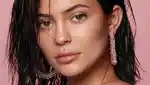 Succeeding in business and life is all about your support network
If the success of the Kardashian-Jenner clan isn't proof of the power of a supportive, tight-knit family, then we don't know what is. At the heart of that lies the world's most iconic 'mumager', Kris Jenner.
"From a young age, my mum told me to find the thing that I was passionate about, and to work hard at it," Jenner reminisces. "She always said to have your work be something you look forward to doing every day."
Jenner credits this advice as the catalyst behind the person she is today: "I've always loved makeup and realising I could make a career out of it, was truly one of the most defining moments in my life."
Her biggest lesson in business? "I've learnt that you have to have the right manufacturers who can support the growth of the business!" she exclaims.
It takes self-care to 'rise and shine'
With the world watching her every move, Jenner, who - amongst everything - is also a mum of two, finds peace in knowing herself, and always staying true to that person ("I try not to think about it too much," she says in relation to her hundreds-of-millions-strong Instagram following).
"With everything going on in the world, it's definitely become necessary to unplug and make time for myself," she shares, noting that her beauty rituals have become her means of self-care, and her preferred way "to de-stress and unwind."
In addition to her simple secret to 'rising and shining' every day - "drinking lots of water and eating healthy" - Jenner leaves us with the gentle reminder we all need right now: "Don't feel pressured to be or act like someone you're not, and the rest will fall into place."