From K-beauty secret to skincare staple, sheet masks have earned their place on in skincare routines across the globe.
And the good news is, there's a sheet ready to solve just about any skin concern.
A long time favourite in Korean beauty rituals, facial sheet masks have gained popularity across the globe and become a go-to for a quick skin pick-me-up. And we're not surprised, because really, is there anything as wonderful as placing a serum-soaked sheet mask over your face and kicking back for a few minutes while it does its thing? It's lazy girl beauty at its best.
It's not just about the feel-good factor: today's sheet masks deliver serious skin benefits, too. There are now so many sheet masks, in an array of forms (cotton, hydrogel, biocellulose) on the market, which means it can be overwhelming finding the one that will deliver precisely what you and your skin are after. And stress is the exact opposite goal of the sheet mask experience.
Here, we've curated the best sheet masks from our range, so the only thing you have to do is pick one, apply and relax.
For when your skin needs hydrating
Quench thirsty skin with a sheet mask that's loaded with moisturising ingredients like
hyaluronic acid
, ceramides and glycerin, to hydrate and plump it up.
This microfibre mask from Tatcha is formulated with red algae, which helps draw moisture into the skin, plus nourishing rice and botanical oils, antioxidant green tea, vitamin E and essential fatty acids to deliver a dewy-looking complexion. Our favourite tip? Put the packet in hot water for 60 seconds - this warms up the formula so it can penetrate even deeper into skin.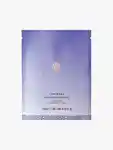 For when your skin needs brightening
If your skin could use a leg up in the glow department, you need a sheet mask with proven brighteners: think niacinamide, vitamin C and antioxidants (or all of the above!).
Go-To's Transformazing Mask is a bestseller at MECCA, and for good reason: it's infused with native Australian ingredients, such as Kakadu plum (an antioxidant powerhouse, it contains the highest concentration of vitamin C of any fruit… we're talking up to 100 times more than oranges!), finger lime (a source of natural alpha hydroxy acids to exfoliate and brighten the appearance of skin) and Tasmanian pepper leaf (which has anti-inflammatory properties). To top it off, there's brightening and barrier-supporting niacinamide in there too.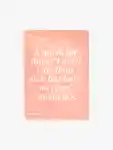 For when your skin needs plumping
This fast-acting sheet mask floods skin with moisture courtesy of the hydrating trio: squalane, panthenol (vitamin B5) and sodium hyaluronate. It also gives skin a soothing and nourishing effect with amethyst powder and meadowfoam seed oil. And if there are bonus points for packaging, then this vibrant purple takes the cake.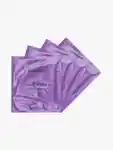 For when your skin needs some TLC
If your skin is sensitive and prone to turning red at the first sign of, well, anything, you can still treat it to a sheet mask, as long as the ingredients are proven to be non-irritating and soothing.
This dissolvable sheet mask contains calming ingredients including cica, bisabolol, reishi mushroom and anti-inflammatory hemp seed oil, plus a couple of skin barrier supporters (hi, squalane and micro algae), that get to work fast. Pop this in the fridge for an extra-cooling sensation and enjoy 10 minutes of bliss.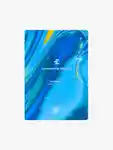 If your skin is in the midst of a breakout, you'll want a sheet mask that's specifically formulated to help calm your skin down and clear up the appearance of spots and congested pores.
This sheet mask is jam-packed with fan-favourite ingredients including anti-inflammatory and antimicrobial tea tree, exfoliating willow bark and cooling mint to soothe, plus a dose of hyaluronic acid to hydrate (still very important, even for oily and blemish-prone skin!). It's a recipe for skin that looks clear, calm and shine-free.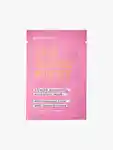 Celebrities love laying on a sheet mask before they get red-carpet ready, so why not do the same before your next big event?
This hydrogel sheet mask is infused with 24-carat gold, silk amino acids and damask rose extract to deeply replenish moisture, soothe and brighten the appearance of skin, and encourage its own natural restorative processes. It's every bit decadent as it is scientific and will leave your skin so glowy, it's basically incandescent.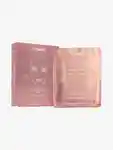 Target the appearance of dark spots, unevenness, discolouration, fine lines and wrinkles with a sheet mask made with potent and proven active ingredients.
This biocellulose sheet mask from famed New York dermatologist Dr Dennis Gross delivers its ingredients, which include vitamin C, amino acids and niacinamide, into the skin, where they get to work from the very first use to protect, plump and repair skin. We suggest using these masks regularly to reap the full skin-smoothing and brightening benefits.