Olympian Morgan Mitchell talks Rio, Rihanna and race day rituals
January 1 | 49 minute listen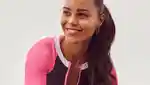 Hosted By Kate Blythe
Originally published on | January 18
Welcome back to MECCA Talks, your access all areas pass to the beauty, business, and lifestyle experts we call our community.
In this episode, Kate is joined by dual Olympian – and star of our January 'Get Skin Fit' campaign – Morgan Mitchell. Having represented Australia in 400 and 800 metre races at the Olympics, Commonwealth Games and world championships – while becoming the first athlete to face F45 gyms, a featured athlete in viral Netflix documentary 'The Game Changers', and a bona fide style icon – Morgan is proof that routine, consistency and self-care pays off (in spades!).
Hit play as Morgan shares the story of her journey to the Olympics, lets us in on her indulgent head-to-toe body care routine (and her obsession with Rihanna), and explains what getting 'skin fit' – and staying skin fit – means to her.