Emma Lewisham on creating the world's first carbon positive beauty brand
January 1 | 47 minute listen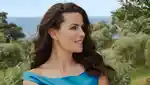 Hosted By Kate Blythe & Lucy Shaw
Originally published on | September 7
Welcome back to MECCA Talks, your access all areas pass to the beauty, business, and lifestyle experts we call our community.
In this episode, Kate is joined by resident skincare expert Lucy Shaw to talk to the Emma Lewisham about her benchmark-setting, industry-changing, results-driven and science-backed eponymous skincare line.
Based in New Zealand (and making waves around the world) Emma has succeeded in developing the world's first carbon positive and circular-designed beauty brand, even getting the stamp of approval from her hero, Dr. Jane Goodall. Her efficacious, cutting edge and naturally derived formulas are safe for all skin types and life stages too, proving to the beauty industry that you really can have it all.
From choosing her brand colours with MECCA in mind to publicly releasing the IP for her sustainable business model, this conversation with beauty's biggest changemaker is not to be missed – hit play!