---
Ellis Brooklyn's Founder on Why You'll Love This Bonus
Fragrance enthusiasts, we're so excited that you redeemed the Ellis Brooklyn Bonus: an on-the-go spritz to build your fragrance wardrobe! Who better to tell you all about it than brand founder Bee Shapiro? Watch to learn all about the inspiration behind her brand, her top summer scents and her predictions for the next big thing in beauty...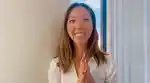 Your next favourite fragrance
Explore the rest of Ellis Brooklyn's range of unique, sustainability-minded scents.