MECCA Talks Fragrance, with Laura Curtis and Analiese Gregory
January 1 | 48 minute listen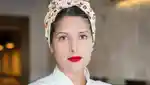 Special Guests: Laura Curtis & Analiese Gregory
Hosted By Kate Blythe & Zara Wong
Originally published on | August 11
Welcome back to MECCA Talks, your access all areas pass to the beauty, business, and lifestyle experts we call our community.
In this episode, Kate takes us on a journey of fragrance through time, and how personal scents have come to be as complex and abundant as they are today.
Then, MECCA education manager for fragrance Laura Curtis tackles our most commonly asked fragrance questions. Her depth of knowledge will blow your mind (and leave you with a whole new wish list of scents!).
Giving us a new angle on aromatics, hatted chef and proud hunter-gatherer Analiese Gregory joins Kate and Zara to discuss her relationship with memories, recipe development and scent (and how they all intertwine).