The world of fragrance is vast and complex, which means that finding 'the one' can feel a little overwhelming.
That's where discovery sets come in: an invitation to explore, wear and experience a selection of scents before we commit to a full-sized bottle. And let's not forget, the miniature sizes are perfect for touching up on the go or packing into a suitcase, too. Inspired to try a fresh brand, step outside of your comfort zone or make new fragrant memories? Let's explore some of our favourite perfume discovery sets available at MECCA.
Flower power, but make it portable. Take a stroll down
Floral Street
with this scent wardrobe, comprised of eight fragrances, including
Wonderland Peony
(a fruity-floral bouquet of peonies and violets),
Electric Rhubarb
(a salty, powdery white floral),
Neon Rose
(rose with a shot of bergamot and angelica for brightness),
Arizona Bloom
(a dry floral amber mix of Balinese coconut and Madagascan black pepper),
Wild Vanilla Orchid
(creamy vanilla infused with jasmine and citrus),
Chypre Sublime
(a woody chypre blend of rose, patchouli, geranium and violet),
Black Lotus
(spicy, woody, rose but not as you know it), and
Ylang Ylang Espresso
(a luxe gourmand featuring ylang ylang, coffee and cream).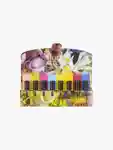 From one of the most renowned perfumers on the planet comes this premium set. The
fragrance
delivers an intriguing blend of deep and smoky oud wood, one of the rarest natural materials in perfumery, alongside classic rose, delicate violet accord and lush vanilla, in an extrait elixir for a highly-concentrated, long-lasting affair. The result? A soft-yet-strong, amber woody scent that's sure to turn heads (you've been warned!).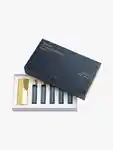 The Parisian house of
diptyque
has been crafting beautiful, unique objects and fragrances for more than 60 years. In this set of five spray vials, diptyque takes us on a journey through the life stories of the three best friends who founded the brand together.
Philosykos
recalls childhood memories of walking through sun-soaked fig groves in Greece, while
Do Son
is inspired by tuberose petals floating on the sea breeze in a seaside village of Vietnam. Discover these olfactory delights and more with this travel-friendly set.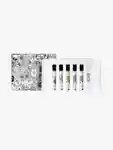 Founded by Australian creative Yasmin Sewell,
Vyrao
is a brand devoted to raising our sense of positivity, joy and good feelings. Each fragrance is infused with an intention: courage and creativity, transformation and illumination, attractive and protection, liberation and sensuality, or self-love. And if you want to feel it all, the Vyrao High Five Set is for you! Featuring all five Vyrao fragrances, including insider favourites
Witchy Woo
and
Free 00
, the good vibes will be coming your way one spritz at a time.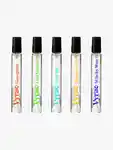 If you like to choose your scent based on whatever mood you're experiencing or occasion you're attending, this mini fragrance wardrobe is your ticket to eight of
TOCCA's
most iconic juices. The brand excels at turning out romantic fragrances with a fresh twist, like the floral-green
Florence
, the floral-woody-musk
Stella
, the floral-fruity
Simone
and the amber-floral
Gia
.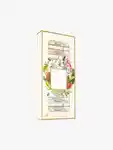 D.S. & DURGA
is a New York-based, handcrafted brand created by a musician and an architect who believe that wearing perfume is equivalent to an invisible soundtrack playing on our skin. With each fragrance accompanied by a curated Spotify playlist and liner notes to tell its story, it's no surprise that this discovery set also gives a nod to the world of music. D.S. & DURGA's Greatest Hits Vol. 1 will teleport you to other sights, sounds and dimensions: picture a sandalwood radio radiating in the heat of Bandra, cowboys robbing banks on horseback and a violin workshop in 1800s Massachusetts.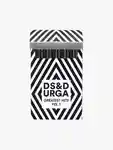 Housed in travel-friendly spray vials, this nomadic set showcases three of Byredo's [brands-byredo] cult classic fragrances:
Bal d'Afrique
,
Blanche
and
Gypsy Water
. Pair it with the ever-so-chic Leather Travel Case in Burgundy to protect your precious scents (and the contents of your handbag!) on your travels.