A trip to Paris with Buly 1803 co-founder, Victoire de Taillac
January 1 | 47 minute listen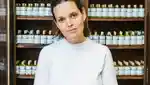 Hosted by Kate Blythe & Zara Wong
Originally published on | May 4
Welcome back to MECCA Talks, your access all areas pass to the beauty, business, and lifestyle experts we call our community.
In this episode, we're transporting you to Paris – no passport necessary! Join us on Kate's recent trip to the city of love, flowers, fragrance and pastries for a sit-down chat with L'Officine Universelle Buly 1803 (also known as just Buly) co-founder, Victoire de Taillac.
Get inspired by the eclectic, time-travelling worldliness of de Taillac and her partner, Ramdane Touhami, who reinvigorated and reinvented a 19th century apothecary that once flourished by way of its "vinegar with a thousand virtues."
De Taillac also talks about her time at prolific Parisian fashion boutique, Colette, tells us what makes Buly's unique water-based fragrances so good, and shares the tourist and patisserie-flecked joys of Paris post-pandemic.