MECCA Talks Finding Your Beauty Identity, with Mahalia Handley and Tony Baumann
January 1 | 45 minute listen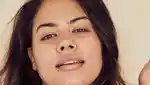 Hosted By Kate Blythe & Zara Wong
Originally published on | October 6
Welcome back to MECCA Talks, your access all areas pass to the beauty, business, and lifestyle experts we call our community.
In this episode, Kate and Zara discuss their journey to finding a sense of beauty identity, and how access to digital technologies can lead women and girls to greater equality. More on that here!
Then, Tony Baumann, MECCA's head of artistry and fabulosity, shares how he discovered beauty, and lets us in on his best advice for building confidence through beauty, kindness, and sharp interpersonal skills (6:22).
The model activist 'kicking the hornet's nest', Mahalia Handley then joins Kate and Zara to share her experiences as a curve model of Irish and Maori heritage, and how she champions body and ethnic diversity through modelling, social media, creative direction, and consultancy (19:46)