The phenomenal beauty career of Floral Street's Michelle Feeney
January 1 | 47 minute listen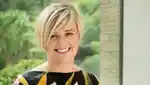 Hosted By Kate Blythe & Jen Horsley
Originally published on | September 28
Welcome back to MECCA Talks, your access all areas pass to the beauty, business, and lifestyle experts we call our community.
In this episode, Kate and guest co-host Jen Horsley are joined by Michelle Feeney, founder of sustainable fragrance brand, Floral Street, and beholder of one of the most prolific careers in beauty.
From working at the PR firm that inspired Absolutely Fabulous, to participating in the first ever London Fashion Week, putting Crème de la Mer on the map, raising millions for HIV/AIDS via M.A.C Cosmetics – and, of course, developing a sustainability-first fragrance brand like no other – this chat with Michelle is a must-listen for beauty historophiles, inspired scent-scapers, and those hoping to forge a path in the beauty industry.