Babba Rivera founded Ceremonia with a simple ethos in mind: embrace your natural hair instead of masking it. Inspired by the beauty rituals embedded in her own Latinx heritage (she's Chilean Swedish), Rivera decided to provide a solution for hair types that were long underrepresented in the beauty world – and harnessed the power of Latin American ingredients in a holistic approach to haircare that all starts at the scalp.
Here, we chat to Rivera about her recommended rituals for different hair types, the secrets behind her own weekly hair routine and her not-so-linear career path...
Tell us a little about your career – did you see 'haircare brand founder 'in your future?
BR: "I never thought I would become a haircare brand founder. I didn't even consider beauty as a career path… I grew up as the daughter of a hairdresser who struggled to make ends meet, so in a pursuit to create a different future for myself, I embarked on a career journey far from the beauty industry.
"I built my career in the tech industry, becoming one of the first international hires at Uber and helping launch the business in Sweden. After four years, I decided to leave Uber for another high-growth startup before I finally built up the courage to start something of my own.
"I opened a brand marketing agency, bybabba, headquartered in New York City, and eventually opened up a second office in Scandinavia. We started to get a lot of requests from beauty brands, and I was fascinated by the exciting momentum in this category. I could tell the entire industry was in a paradigm shift towards a new future where sustainability, ingredient transparency, diversity and representation were expected from the customers, yet not formalised by the brands.
"This early realisation sparked the initial curiosity that would eventually lead me into a rabbit hole of research, reconnecting with my own roots and the formation of what is today Ceremonia. It's been a long journey to get here, but I'm now realising it was all part of the process.
"This is exactly what I'm meant to do, and everything I've done in my career before was just giving me the right ammunition and tools to get here."
What led you to make a break from the corporate world to launch Ceremonia?
BR: "As I was preparing for pregnancy, I started to question many of my beauty regimens. After successfully replacing my skincare routine – and seeing incredible results – I wanted to embark on the same journey with my hair.
"This is when I realised how far behind the hair category, not to mention the overall lack of scalp care and representation of natural hair. This brought me back to my childhood memories and the rituals I grew up with. I realised that I've had the answers within my culture all along, I was just too busy running away from it to see it."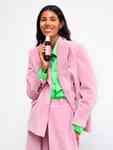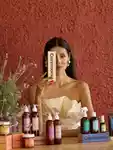 What were your earliest experiences of haircare?
BR: "Haircare was such an integral part of my upbringing. My father was a hairdresser back in Chile, but upon immigrating to Sweden he was never able to get a job in the field due to the language barrier. Instead, he practised his passion for hair rituals on me.
"He taught me from an early age the importance of the 'care' aspect of haircare. On wash days, he would give me scalp massages and whip together his own blends of natural oils to boost the cheap drugstore products we could afford at the time. On school photo day, he would spend eight hours the night before braiding my hair.
"Haircare was a central part of my childhood, especially as we didn't have much money to do things outside of the home. Instead, we would spend a lot of time at home and getting creative with beauty rituals as an intentional activity – like a spa moment at home."
If you're going to do one thing different from today to tomorrow that's going to have the greatest impact on your hair health, it's going to be a scalp routine.
Did you feel embraced by the beauty industry?
BR: "Growing up in Sweden, I was very different from my peers. My hair was thick and frizzy, and generally different from all my friends' blonde, smooth, straight hair. I also never saw my natural hair represented in any media, making me believe my hair was not 'polished' enough to wear natural. The little representation that existed of brown women showed women with perfectly straightened, keratin-treated hair or with artificial blowout-waves.
"The lack of representation of natural hair led me to embark on what I today think of as a 'beauty prison'; I would wake up one hour earlier every morning just to frantically straighten my hair and tame it under heavy toxins from products promising me 'anti-frizz', when in reality those same products were filled with chemicals making the frizz, dryness and damage worse over time.
"It took me until Ceremonia to stop trying to make my hair something it doesn't want to be, and ultimately just finally making peace with my natural beauty."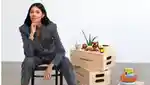 Aceite de Moska was your very first release – how did you know you were on to something good?
BR: "Aciete de Moska Oil is Ceremonia's vision in a bottle – an intentional cocktail of oils that balances your scalp for overall scalp and hair health; a ritual derived from the Dominican Republic but reimagined with science-backed plant-derived ingredients and free from common 'filler' ingredients such as silicones and sulphates.
"My father taught me that if you're going to do one thing different from today to tomorrow that's going to have the greatest impact on your hair health, it's going to be a scalp routine. And the most essential step you can take for your scalp health is to ensure your scalp is perfectly balanced. Many people don't realise that a lot of their hair concerns stem from an unbalanced scalp, such as greasy roots, flakes, breakage and hair thinning.
"Aceite de Moska was such a special project for me because it was our first product that was co-created with our community. We went through various iterations of sampling together with a community of testers who I was in daily contact with through WhatsApp to get their real-time feedback on the samples. This helped us to not only perfect the formula, but also gave me the conviction I needed to go to market with this formula."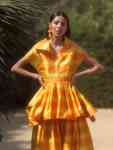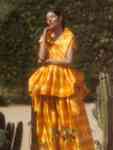 Years on from the launch of Ceremonia, what would you consider your biggest achievement to date for the brand, and what do you think its impact and, eventually, its legacy will be?
BR: "The greatest achievement and impact is in our product promise of doing better for your hair and the environment. We hear over and over again from customers how Ceremonia has transformed their hair, and how they now won't even go on a weekend trip without bringing their Ceremonia staples. Our formulas are extremely differentiated as we create everything in-house from scratch, with our own full-time chemical engineer and ongoing feedback from community members.
"We're on a mission to put Latin American rituals on the world-map, sharing the beauty secrets from my culture with a global audience, while providing much-needed representation. Personally, I've always wondered why French beauty has had the exclusivity on hair when Latin America has such a rich history of hair rituals and powerful natural ingredients that have been used to solve hair woes for centuries."
Latinx rituals are so instantly linked to, and even inspired, Ceremonia — what are some of your favourite beauty rituals?
BR: "My favorite beauty ritual is a nighttime moment in my bathtub when the world is quiet. The kids are asleep, my phone is silenced, I put on sleep meditation music, light a candle, and apply our Aceite de Moska. I lay in the warm bath filled with bath salt, I put on a face mask and if I'm in the mood, I might also do a body scrub while I'm at it.
"These are the most luxurious moments for me, because they don't require any extensive planning, just an intention to dedicate a moment for oneself in the comfort of your own home. My mother taught me from an early age that any bathroom can be a spa, and I live by this religiously."