Julia Ashwood knows travel better than most. Beyond her sun-soaked Instagram, the mum-of-two is Founder of The Vista – a blog filled with her personal tips and recommendations for immersive stays in destinations near and far. And with the launch of Byron Bay destination SUN RANCH, she now also a hotelier – which is why Ashwood was our first port of call to put together a gift guide for the globetrotters in our lives.

Here, she shares her tips for gifting, the essential that never leaves her bag whether she's in Bali, Byron or beyond, and the gift that keeps travel memories alive...
One of the most captivating aspects of travel are the memories you make along the way. Scent is the sense most strongly associated with memory, which is why fragrance is at the top of Ashwood's list: "A good friend of mine once said, always buy a perfume to remind yourself of a special journey. I loved that idea, and now have so many different scents from around the world – my favourite being
Diptyque
whose fragrances, hair mists and candles I first fell in love with in Paris (of course!)," she tells
The MECCA Memo.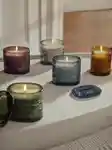 Next on Ashwood's list are the essentials. First up? Three letters: SPF.
"You can never have enough sunscreen; I always keep one for the car and one for the beach bag," she reveals. "
MECCA COSMETICA To Save Face SPF50+ Superscreen
is light and easy to wear – it's my everyday. I will layer it over a moisturiser sometimes or just use it on its own. It's a soft, silky feeling on the skin yet it won't leave you feeling oily."
Frequent travel naturally comes with some serious hours in the air, so for that friend who's always jetting off on a work trip to another time zone, give the gift of glowing skin when they land: "Skin can get so dehydrated on a flight so I always enjoy a lovely hydrating facial mask for the plane –
MECCA COSMETICA's are great
. They are easy to use and not messy at all!"
And finally, for what Ashwood calls "instant holiday hair" – "a good salt spray, like
evo's Salty Dog Salt Spray
."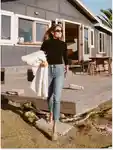 Like many travellers, Ashwood is always on the go – so she looks to makeup that instantly elevates her natural look.
"We have just opened our latest venture – boutique hotel
SUN RANCH
in Byron Bay – so this summer I'll have my working boots on. I'm always outdoors and I am a 'makeup-on-the-fly' kind of girl; tinted sunscreen, a touch of blush and a lip and I'm ready for the world!" she says.
"I like to travel with two lip colours –
something neutral by M·A·C Cosmetics
and a great classic red for evenings; I've just started using French brand
VIOLETTE_FR's Bisou Balm
. It has a lovely soft, powdery finish."
All make fantastic gifts for travellers who also love makeup (the Bisou Balm is
seriously
hydrating, with a balm-like feel that makes it perfect for post-flight touch-ups).
Adds Ashwood, "Everyone needs a bit of glow sometimes – especially after a long trip! I really like
Hourglass Ambient® Lighting Blush
. You just need a quick brush and you're golden!"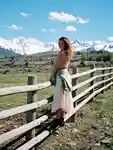 "Everyone needs a bit of glow sometimes – especially after a long trip!"
And finally, the best gift for weary travellers: a self-care moment! Whether they've just arrived at their hotel or are dealing with a change of seasons, Ashwood recommends a restorative ritual – for inside and out.

First up, moisturising all over with the Activator 7 Body + Hair + Face Oil from Aoteroa (New Zealand)-born brand Sans [ceuticals]: "We have spent a lot of time in Tasmania lately, which is quite a dry, cold climate, so I am always reaching for body oil. My husband also uses this one in his beard; it's all-purpose!" she tells us.

And for a hit of probiotics and vitamin C to support collagen production, Ashwood has been taking The Beauty Chef's Plump It Up supplement "which is easy to drink with water or add to a juice or smoothie in the mornings."