There are two types of people in the world: those who pick off their chipped gel nail polish (guilty!) and those who lie about it. 
Yes, we've all given in to the instant gratification of just peeling old polish right off, instead of sitting through an appointment to have it professionally removed. And, most likely, our nails have paid the price.
This is just one of the conundrums that Gaëlle Lebrat-Personnaz, founder of French nail care brand Manucurist, set out to solve. And it's the reason the brand's groundbreaking Green Flash polishes are about to become your next nail obsession. Because while Green Flash applies like a regular gel polish (paint it on and cure it under an LED lamp) and wears like gel polish (up to 10 days of chip-free shine), when it comes to removal? Simply wipe it off with a normal acetone-free nail polish remover.
And that's before we get to the rest of the benefits, like the brand's vegan formulas and incredible array of colours. Yes, Manucurist is a gamechanger!
Read on to discover why we're expecting the term 'French manicure' to take on a whole new meaning this month...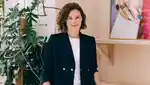 "Everything started in Paris in 1996 when my mum opened her first nail salon, named Manucurist," Lebrat-Personnaz tells MECCA. She has fond memories of childhood spent in the salon – the brand's story is a true family affair: "For all those years, I helped my mother to develop her nail salon business and we were also distributing nail products for professionals as well. In the meantime, I was working in the fashion industry at Louis Vuitton, Prada and Saint Laurent."
In 2016, it was time to pass the baton as Lebrat-Personnaz took the reins at Manucurist. Her ambition? "I wanted to find a way to keep the pleasure of this self-care moment, whether in a salon or at home, but without all the downsides," she reveals.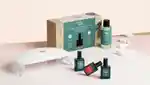 A French (nail) revolution
As for those downsides? There were many, Lebrat-Personnaz explains: "I had always watched my mother working in her salons, applying nail polish or gel to her clients. I loved the social part of that moment and all the exchanges happening in the salon, but I was always put off by the smell of solvents and the harshness of gel removal."
That was the inspiration for Manucurist's range of revolutionary gel polish formulas. "I wanted something that everyone could enjoy, not only for the clients but also for the professionals who are working all day long with the fumes of solvents and chemicals," says Lebrat-Personnaz. "Some of the chemicals listed in traditional gel are restricted to professional use, so I tried sourcing a better solution – [a formula that was] less damaging to remove [at home] – and nothing was available on the market! I knew that I had to create my own."
The Manucurist philosophy frees itself from rules and offers an infinite land of expression.
As Lebrat-Personnaz soon discovered, creating an alternative to gel polish was no easy feat. The biggest challenge? "Not only did I wish to create a better alternative to gel, but the product should also be long-lasting with great shine. There was no bargaining on those two conditions," she tells us.
The result was a product that guaranteed no more aggressive buffing, soaking in acetone or guilty peeling. "You can remove Green Flash at home, with a gentle acetone-free remover and no buffing," Lebrat-Personnaz confirms. Simply soak a cotton pad or ball with the Green Flash Nail Polish Remover and attach the Green Flash Gel Removal Clips to secure. Your polish will dissolve in one to two minutes – genius!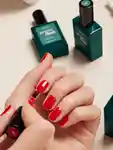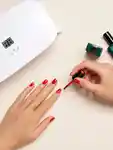 While Lebrat-Personnaz was born into the nail business, she spent her early career working for world-renowned fashion houses in Paris. Watching the artistry of clothing design no doubt influenced her approach to formulating the Manucurist range; she views nails as an extension of one's style and self-expression, citing Yves Saint-Laurent's delight in breaking the 'rules' of colour combinations as a source of inspiration.
"Yves Saint Laurent was such an artist!" she says. "For nails, I'm really fond of a pink-and-cherry-red combination, or pink and black, and gold and blue – a very Saint Laurent combination! Although I feel that today, it's more of a classic than a fashion faux pas. One rule I like to break is 'no more than three different colours in the same nail look' – colourful looks add a sense of cool, fun and boldness in our everyday routine!"
Manucurist also has a range of artistry tools to help you unleash your inner creative, including the Dotting Tool for intricate patterns, and the Corrector Pen for touching up mistakes.
The most important thing, according to Lebrat-Personnaz, is to let inspiration guide you: "Our inspiration comes from various sources, but mainly fashion shows, art exhibitions and underlying trends," she tells MECCA. "Our next collection, Yucatan, is inspired by [Mexican architect] Luis Barragán's architecture and his love for colours – but not just any colours; he had a passion for bright and flashy tones, which catch the light and delight with their cheerfulness."

So, what trends are Manucurist predicting next for nails? "I believe that glowing nails will be a super strong trend," says Lebrat-Personnaz. "We're ready to take more and more care of our nails, like we do with our hair and skin. And we'll be more and more demanding for high-quality products." (Excuse us while we add the nourishing Huile Verte Cuticle Oil to cart now). "I also think that the nail art trend will keep on surprising us and, to be honest, it's a thrill to see so much creativity in the industry!"
As for nail colours, Lebrat-Personnaz says trends actually don't matter! "I like creative fashion that keeps reinventing itself constantly. The Manucurist philosophy frees itself from rules and offers an infinite land of expression. To me, the must-have wardrobe is the one that allows you to be yourself, in all the colours of your personality, and in every hour of the day. I feel the same about nail polish: a range of colours from nude, when you wish to remain low-key, to the most extravagant brights to be free and playful!"