Without makeup artist-level skills, one of those winged eyeliner guidance tools (you know those plastic ones we're talking about), or a whole lot of practice, mastering the perfect eyeliner wing can be a challenge.
It can be particularly tricky on hooded eyes; achieving a flawless flick that doesn't curve up, become disjointed or look a little off-kilter is made that much more difficult. IYKYK.
Because we believe that everyone should be able to whip out a killer cat eyeliner look whenever the mood strikes, we're breaking eyeliner down for our hooded-eye friends out there. But first...
While there is a hooded-eye spectrum, from slightly to very hooded, this essentially covers any eye shape where the eyelid is not visible when the eye is open. Rather than exposing the lid, the skin around the eyes folds over the crease, showing not much more than the lash line. Hooded eyes are genetic (and completely normal), but they can also develop with age.
As this creates a fold at the outer corner of the eye, a wing drawn on while the eyes are closed can be warped by the movement of the skin into that fold. It can cause some frustration when trying to craft a cat eyeliner, as you're trying to make the eyeliner visible and not smudge all over the lid and draw an excellent wing, but with the right technique and some expert-approved tips, you'll be well on your way to the winged eyeliner of your dreams.
How to do winged liner on a hooded eye:
Step 1: Draw the outline of your wing
If you're on your liner L plates, hold the liquid for now. Instead, take a pencil or a shadow and angled brush and, with your eyes open and relaxed, and while looking straight ahead into a mirror, in small strokes draw a line angled upward from the outer corner of your eye, towards the end of your brow. Stay quite light-handed here – it doesn't have to be perfect. The length of the wing is up to you and your threshold for drama.
Step 2: Focus on the outer corner and line your lash line
Once you're happy with the wing's length, draw another line directly from the outermost tip of the line, horizontally to meet your crease. Continue that line across and onto your lash line. As your eyes will be open, and your crease folded, there will be a visible gap once you close your eyes.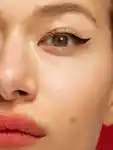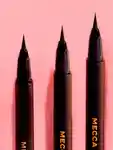 Now, with your eye open, fill in the triangle that makes up your wing. Close your eye and line across your lash line, connecting your lash line to the base of your wing. You should have created a perfect-angled wing when your eyes are open, and a graphic batwing shape when your eyes are closed.
Step 4: Sharpen your wing
Once you're happy with your wing, trace and fill edges with an opaque, long-wearing black liquid liner. Our favourites include
Stila's Stay All Day Waterproof Liquid Eye Liner
and
Shiseido's MicroLiner Ink
. Clean up any stray lines or colour with a cotton tip that's been soaked in makeup remover or micellar water, and feel free to sharpen any edges with concealer (use a small brush to paint it on as close to the eyeliner as possible). If you're in the mood to play, swap classic black with a coloured shadow or liner of your choice.
Step 5: Tightline along the top
Tightlining is the secret makeup artist trick. It's almost like invisible eyeliner, adding depth and colour to your lashes so they appear thicker and adding an extra hit of drama to your overall look. Just take a pencil eyeliner, a waterproof or gel one, and either dot it along the upper lash roots, or draw one continuous line. Either way, you don't want to see any of that skin between the lash roots and waterline coming through – colour it black!
Don't forget
mascara
! (As if you would.) Start by curling your lashes, then layer a coat (or two) of mascara over the top. For hooded eyes, try a volumising mascara in a tubing or waterproof formula – these lessen the risk of smudging and smears.
Best eyeliners for hooded eyes
Whether your preference is a liquid, gel, powder or pencil eyeliner, the most important factor to consider is the wear: to minimise the chance of unwanted smearing, look for eyeliners that are marked as long-wear, smudge-proof or waterproof.
Makeup artist and hooded-wing icon
Katie Jane Hughes
is all about making the batwing look intentional for pizazz between blinks, creating a confident 'c' shape or sharp angle where her wing meets her lid and lash line (you can find her step-by-step in her
Instagram story highlights
). This detail will add polish and power to your wing.