Your beauty FAQs, answered by MECCA's top experts!
January 1 | 29 minute listen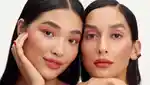 Hosted By Kate Blythe & Zara Wong
Originally published on | February 23
Welcome back to MECCA Talks, your access all areas pass to the beauty, business, and lifestyle experts we call our community.
We recently called on our MECCA Chit Chat Facebook community to hit us up with their biggest beauty questions, queries, myths and legends via voicemail, and today, we're answering them with the help of MECCA's education managers for skincare and makeup, Lucy Shaw and Jen Horsley.
From pimples and ingrowns to full-coverage foundations and budge-proof winged liner, we're diving in deep on the details (and the product recommendations to match)!