Barbie – the billion-dollar blockbuster starring a flaxen-haired Margot Robbie and a bleached-to-the-heavens Ryan Gosling – sparked deep conversations, countless collaborations, and, according to US salon booking service Fresha, an 83% increase in "Barbie-inspired treatments" (think: platinum-blonde transformations).
Celebrity colourist Tracey Cunningham describes this current beauty phenomenon as "blonde mania," noting an uptick in the number of clients (including A-listers like Emma Stone and Khloé Kardashian) requesting bolder and blonder shades in her Beverly Hills salon.
Caitlin Richardson, founder of Blonde/Blond – an LA salon devoted entirely to blonde hair – says she's also noticed a shift in the shades clients are currently seeking; high-maintenance colours, like 'icy white' blonde, are becoming less popular, and warmer hues are on the rise. Lived-in, 'root-y' looks that allow adopters (like Laverne Cox and Sofia Richie Grainge) to stretch the time between salon visits are also trending, as are heavy highlights.
Regardless of where you end up on the blonde spectrum, pulling it off is all about "attitude," says colourist Jacob Schwartz, whose roster includes Robbie and Brie Larson. Here, we ask the pros – who tend to some of the world's brightest and blondest stars – to share their top hair colour predictions for the months ahead.
'90s Blonde
Real-life Barbie Margot Robbie wouldn't dare step out of her Dreamhouse and onto a red carpet with hair colour that's obvious and over-bleached," says Schwartz, who created the star's classic and timeless blonde.
To achieve a natural-looking effect reminiscent of '90s supermodels and actresses like Claudia Schiffer and Reese Witherspoon, he lightened Robbie's hair to a golden colour. Then, the pro added ultra-fine highlights all over instead of bleaching her entire head or placing brighter pieces in a uniform pattern.
Customise your take on the colour by considering your complexion first: ashier shades of blonde often complement fair or pink complexions, while warmer hues tend to accentuate olive or deeper skin tones, explains Schwartz.
How to prolong your blonde:
After any colour transformation, add a strengthening treatment, such as OLAPLEX
No.3 Hair Perfector
, to your routine.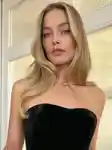 Instagram.com/jacobschwartzhair
Nude Blonde
"Nude blonde is the perfect way to transition from a light, bright blonde to a more toned down, fall version," says celebrity colourist Rita Hazan, who keeps Angelenos like Beyoncé and Sydney Sweeney shining under the California sun. To achieve this trending hue, Hazan recommends opting for a creamy, tone-on-tone blonde punctuated with plenty of highlights for added dimension.
How to prolong your blonde: Keep colour brilliant with a tinted gloss like IGK's Color Depositing Mask.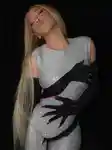 Highlights On Highlights
"Going platinum is easier than keeping it up," says Cunningham, who regularly tends to Halle Berry and Julia Garner's white-hot hair. She predicts that "bleach-and-tone" dye jobs will give way to "heavy-handed highlights" that offer the same level of brightness without the risk of breakage.
Weaving strategic ribbons of blonde through the hair also requires less maintenance than a base colour that "shows a line of demarcation within the first week," adds the pro.
To keep highlights fresh and luminous between salon visits, Cunningham recommends using a clarifying shampoo once a week to target minerals, heavy metals, pollution and product build-up that can tarnish blonde strands.
How to prolong your blonde:
OLAPLEX
No.4C Clarifying Shampoo
deeply cleanses without stripping colour.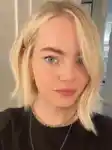 Sand-Dollar Blonde
"I think everything warm is going to make its way on the scene," says blonding specialist Cyd Charisse of sun-drenched shades like sand-dollar blonde. This caramel-coloured hue spotted on the likes of Ciara and Taylor Swift will leave you looking like you spent the past few months collecting seashells on the beach in Malibu. To achieve it, Perry recommends asking your colourist for a "gold-beige blonde" that balances cool, ashy undertones with warm, buttery hues.
How to prolong your blonde: For added shine, apply a moisturising oil. Try Oribe Gold Lust Nourishing Oil.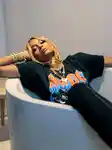 Real-life Barbie Margot Robbie wouldn't dare step out of her Dreamhouse and onto a red carpet with hair colour that's "obvious and over-bleached."
Baby Blonde
As much as Richardson loves Barbie's "bright shock of golden-blonde hair," she said there will always be demand for softer hues that emulate the sunkissed colour many took for granted as children.
Never had fair hair as a child? No problem. "Anything a few shades lighter than what a person has as an adult usually reads beautifully on their features," Richardson explains.
Perry, who took model and LA-native Bella Hadid back to the hue she had as a baby, encourages her clients to bring visual references. "The biggest mistake is not bringing photos to your hair colour appointment," she says. Either way – put down the box dye and prepare to be patient on your blonde journey. "There are unicorns that can bleach their hair at home and it turns out amazing, but for most people, it's a long process that requires a lot of attention to detail," Richardson warns.
How to prolong your blonde: Protect your investment with Briogeo Color Me Brilliant™ Color Protect Primer, a styling cream that shields hair colour from heat.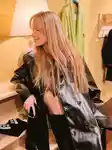 Lived-In Blonde
Looking for a lower-maintenance way to lighten up? Try the "lived-in" version of blonde, which isn't one solid shade from top to bottom, says Richardson. Instead, roots are toned down to a darker shade closer to your natural hair colour, allowing for less frequent touch-ups.
To achieve the effect, celebrity colourist Jenna Perry, who works with Hollywood heavy-hitters like Greta Gerwig and Chloë Sevigny, adds a few lowlights for dimension before free-hand painting highlights through hair for a more seamless grow-out.
How to prolong your blonde:
Counteract brassiness with violet-tinted formulas. Try the Bumble and bumble
Illuminated Blonde Tone Enhancing Trio
.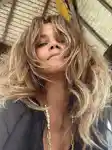 Spun With Gold
If you want to add a bit of brightness without going full-blown blonde, add ultra-fine highlights all over and skip the base colour (unless you're covering grey), says Schwartz, who calls this glistening look "spun with gold."
The highlights shouldn't be thick, stripy, or white, he explains; instead, honey-hued pieces should be woven
throughout
your hair – not just painted on top or around the face – so that the effect can still be seen on the sides and underneath if strands are pulled up into a ponytail.
How to prolong your blonde:
For added lustre, keep hair hydrated with L'Oréal
Professionnel's Serie Expert Blondifier Masque
.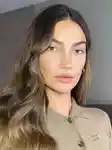 Instagram.com/jacobschwartzhair