When I first started working at MECCA,
Sol de Janeiro
was a small, widely unknown brand, tucked away on a small shelf from which you'd hear confused people murmur, "Buhm buhm?" "Boom boom?" as they passed those signature yellow tubs. Now front and centre in every beauty retailer across the world, it's the brand Gen Z (and Alpha, who are – quite shockingly – entering their teens) are beelining towards, dousing themselves in delectably gourmand
body mists
.
But a bit of Sol on the body just wasn't enough; TikTok users are spritzing the mists through their hair to increase scent power, longevity and waft-ability – and they've got the right idea.
Hair fragrance: the greatest thing a fragrance lover could do...
Hair – a natural, porous fibre prone to moisture and oil, and close to your body's warmth – makes the perfect canvas for fragrance to cling to. Think about when you've spent Friday night fireside and can smell the smoke in your hair all through the weekend, or you've whipped up swirls of spaghetti aglio e olio only to have eau de garlic-scented strands for the rest of the night. Earlier this year I practically begged celebrity hairstylist
Sam McKnight
to bottle the luxe floral fragrance of his hair products into a perfume – and while he (very) politely declined, he explained that hair is the optimum medium for scenting, which led me to rethink my fragrance approach.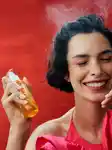 For the best longevity, fragrance should be applied to hydrated, moisturised skin, and in particular to warm areas of the body (like your pulse points, the crook of your neck or the backs of your knees). With warmth and moisture constantly radiating from the scalp, combined with hair's wool-like ability to absorb and retain scent, you'd be hard pressed to find a better way to bring your signature scent to life.
…But spraying your current perfume into your hair isn't the answer
In saying that – don't be in a rush to spray your EDT or EDP into your hair. Traditional fragrances contain large percentages of alcohol, which can be drying and damaging to your lengths. A purpose-built hair mist, on the other hand, is generally formulated with added hair benefits – often ingredients for hydration, shine and protection – to help hair not only smell good, but look and feel good, too. (And, in many cases, scented hair mists can be a thriftier way to experience your favourite scent!)
While hair mists might feel like a new addition to our beauty routines, some of our favourite brands were in on the scenting secret all along.
First, from the hair experts: Gisou's Honey Infused Hair Perfume is formulated with honey from founder Negin Mirsalehi's family bee garden, helping to refresh, repair and nourish as it leaves the hair with Gisou's signature honey-drizzled scent. Meanwhile, Sachajuan's Protective Hair Perfume helps to refresh, protect and boost the shine of second, third and fourth-day hair with a weightless, fruity-smelling mist – our favourite for after the gym.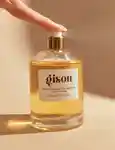 And from the fragrance icons, you won't be let down; Maison Francis Kurkdjian, Diptyque, Jo Malone London and Byredo all offer hair mists in a selection of their bestselling scents – and yes, Baccarat Rouge 540, Wood Sage & Sea Salt and Gypsy Water are included.
We have an… educated inkling more of your favourite brands will be exploring the hair and body mist category, so be sure to watch this space. Until then, choose your player, spritz onto dry hair and go forth!
Fragrance doesn't stop at perfume. Scent your world with hair and body mists, or bring it into the bathroom with luxurious shower gels and body lotions.
We've curated the best (of the best!).