When it comes to hair, there's a lot of noise out there in the beauty world.
Some advise only washing your hair once a week. Others swear by a daily wash. Some recommend washing it upside down, others are all about hair masks, or hair oils, or no product at all (a MECCA addict's worst nightmare). It's hard to know where to start, or who to listen to.
But if there's one person we are all ears for in the realm of haircare, it's Gisou founder Negin Mirsalehi. Negin has good hair. Really good hair. Bouncy, luscious, and thick enough to inspire some major hair-envy, she's a walking, talking billboard for her bee-powered haircare range. So when MECCA had the chance to speak to her about her six-generation beekeeping heritage and the honey-infused haircare that's at the heart of Gisou, we couldn't pass on the opportunity to ask the question on everyone's mind: how does her hair look so good?
Pinterest-perfect, Mirsalehi's glossy waves are the stuff worthy of your Instagram saved folder. Lucky for us, the founder spilled her hair secrets in detail.
I carry around the Honey Infused Hair Perfume with me everywhere to refresh my hair throughout the day with our signature scent.
Wash two to three times per week
Let's start by clearing up the basics: how often should we be washing our hair? Thankfully, Negin's advice is realistic and achievable (no daily 12-step routine required here.)
"To start, I really try to be gentle with my hair, as my mother taught me," she explains. "I only wash my hair about two to three times a week with the Honey Infused Hair Wash and Honey Infused Conditioner to help maintain its natural moisture balance." Over-washing your hair can wreak havoc by stripping it of its natural oils, which then sends your scalp into overdrive to produce more. The result is an always-greasy vicious cycle which takes some really bad hair days to rectify. So we're big fans of Negin's balanced and practical approach.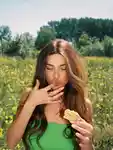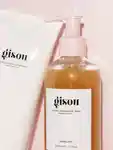 Much like skincare, haircare needs follow-up steps to focus on putting moisture and nourishment back into the hair after washing. You wouldn't cleanse your skin and then skip the serum or moisturiser. And in the same vein, Negin recommends following your hair wash routine with some simple post-wash care.
"To further help keep my hair nourished and moisturised at all times, I apply our Honey Infused Hair Oil post-wash to lock in moisture," she says. "I keep our mini in my purse so that I can reapply throughout the day to tame frizz, smooth fly-aways and enhance shine."
If you have a tendency for oily roots and dry ends, this can be a sign of an imbalance. Rectify by applying hair oil to the ends only, which should slow sebum production at the scalp once your ends are feeling healthier.
And Negin follows up with a regular deep treatment. "One to two times a week, I treat my hair to a deep treatment, by mixing our Honey Infused Hair Mask with a few drops of Honey Infused Hair Oil, although either can be used on their own."
What your routine might be missing: primer
Just as you prep your skin for makeup with a layer of primer, did you know you could do the same for your hair? Makes sense! And if your hair takes a long time to dry, you'll love the bonus side-effect that Gisou's primer offers – reduction in drying time (and a better result as it dries).
Negin says that after heat protectant, "I apply a pea-sized amount of Propolis Infused Polishing Primer, our styling multitasker to prevent frizz, reduce drying time (if I've just washed my hair), enhance volume and texture and ensure my hairstyle will hold. I also like to use the primer on its own, to define and enhance my natural hair texture or achieve a sleek look."
Once your hair is moisturised, dried and styled, you're good to go, right? Well, yes, but there is one last magic step that Negin swears by.
"To finish, I carry around the Honey Infused Hair Perfume with me everywhere to refresh my hair throughout the day with our signature scent." What could be sweeter than that?