MECCA Collectiva is our inspiring set of tastemakers from around the globe. From skincare routines to makeup edits, browse their MECCA curations.
Cast your mind back (we're talking 2012) to a time before influencers and paid partnerships, when Instagram was saturated with sepia-tinged snippets of OOTDs and last night's dinner. This was when Katie Jane Hughes entered the scene, sharing her passion for makeup via bite-sized beauty tutorials (which she called 'KJH Academy') before the rest of the world even knew about – let alone caught on to – the trend. "[Instagram] really gave me an opportunity to show the world what I wanted to show them about my work. It let me create my own editorial on my own platform," shares Hughes.
She swiftly solidified her space in the beauty industry, amassing hundreds of thousands of devoted Instagram followers and attracting the attention of global beauty brands who were lining up to work with her. She also became the chosen makeup artist for stars including Rosie Huntington-Whiteley and Kate Bosworth.
Here, the celebrity and editorial makeup artist took some time away from her current project – building a studio at her home in Brooklyn, New York City – to give us an insight into her world, sharing everything from the beauty question she's asked most frequently, to the products currently in her beauty bag.
The best beauty advice I ever received is to not be afraid to play with colour; it's just makeup, you can take it off!'
Dewy skin and a bold red lip, always
"My beauty style is sort of always evolving based on my mood. I'm into classical beauty and fashion moments with a funky twist. For glam, this translates to fresh dewy skin and a bold red lip."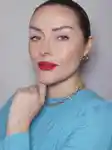 Inside Hughes' beauty bag
"The best beauty advice I ever received is to not be afraid to play with colour; it's just makeup, you can take it off!
"It sounds cliché but honestly my mum is my beauty muse. Even in her seventies she shows up with her bold red lip and bronzer. My mum's nightly glam routine to go out and perform as a singer was really infectious and to see that transformation happen – from Mum at home to a glamorous performer – was super impactful and influential for me."
Beauty questions? Ask Katie
"I'm always asked, 'How do you make your skin glowy?' And the answer is to prep with really dewy
skincare
in the right areas and finish with a bit of highlighter on the high points of the face."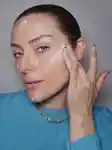 "I used to create a lot of graphic eye looks but haven't been doing a ton of them lately. It's definitely a trend right now so I'd like to pick that back up."
"The next place I'm travelling is probably the UK to see my family. I always travel with any beauty brands that I might be working with at the time, or multi-use products. Multifunctional products are essential when I'm travelling."
"I really want to try and get into
Succession
. I'd like to listen to more podcasts; I love podcasts around mental health. And I really want to try a restaurant in New York called
Semma
. I used to get a lot of amazing Indian food in London and I don't get a ton of it in New York – I've heard such good things about this place."