MECCA Collectiva is our inspiring set of tastemakers from around the globe. From skincare routines to makeup edits, browse their MECCA curations.
If you're on TikTok and interested in fragrance, there's a good chance the algorithm has served you content from Kudzi Chikumbu – though you may know him better as Sir Candle Man.
A self-described multihyphenate, Chikumbu is both a marketing executive and a creative entrepreneur – and by creative entrepreneur, we mean TikTok superstar! By day, he works on amplifying the stories of incredible creatives via social media. He then spends his nights and weekends studying and reviewing luxury fragrances on TikTok and Instagram as Sir Candle Man. And though his one true love remains – as his name suggests – candles, Chikumbu is a keen purveyor of beauty in all forms.
From his home in sunny Los Angeles, Chikumbu shares his top candle hacks, the star skincare products in his routine, the scent that ignited his love affair with candles and how incorrectly spraying perfume was the catalyst for social media stardom.
Beauty is taking the time to make you and your life beautiful…Beauty is taking the time to be you.
How Sir Candle Man began
"On a vacation in Paris, I stumbled upon a Maison Francis Kurkdjian display in a department store and smelled one of their candles – immediately, that scent translated to imagery, story and creativity. From then on, I fell in love with the art of fragrance and how it connects to the consumer.
"I have now been doing social media for over 15 years! From blogs to MySpace, SoundCloud, YouTube, Instagram and TikTok, I have always loved creating and sharing with the world. My TikTok took off when I started providing value to people. One day I posted a video about a perfume I liked and someone commented that I was spraying it wrong, so I looked it up and made a reply video about how to spray perfume. From there, I realised that people wanted to have fun but also learn, so I made more of those videos, and the account took off."
Inside Chikumbu's fragrance wardrobe
Helpful hacks
"My biggest tip for gifting fragrance is to go for something universal with exquisite perfumery. So deep wood, great vanilla and rose all work. Generally, the bestsellers from any brand work. Byredo's Bibliothèque EDP is always a hit!
"When it comes to candle hacks, always trim your wick to a quarter inch [Editor's note: around 6 mm] before burning. Yes, every time! This will make sure you have a cleaner burn and that the flame is not too big."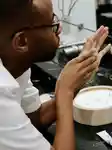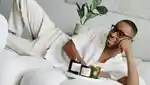 Curating a beautiful life
"Beauty is taking the time to make you and your life beautiful. From setting up a relaxing candle like Flamingo Estate's Climbing Tuscan Rosemary Candle and washing your body with a delicious body wash like Nécessaire's The Body Wash Eucalyptus, to cleansing your face, spraying a gorgeous perfume like Floral Street's Black Lotus EDP, then relaxing… Beauty is taking the time to be you.
"I love the 'no scent but scent' and 'no skin but skin' feeling – embracing all of yourself. That's why I love the Escentric Molecules Molecule 01 – the Iso E is there, but almost not there. It's the perfect gentle whiff of luxury without being overwhelming. For skin, I live by NARS Radiant Creamy Concealer. My shade is 'Amande'. A few light dots here and there, then my skin is even and I'm good to go."
From candles to complexion
"Men are coming around to moisturiser – which seems to have taken longer than needed. I see more men using complexion products like concealer and, in general, just taking the time to take care of themselves: from manicures and investing in skincare to being adventurous with fragrance.
"I'm a believer in finding products you love, rarely deviating and being consistent. And more sunscreen, always. I love a really simple cleanser and a really simple and effective moisturiser like Clinique's Moisture Surge™ 100H Auto-Replenishing Hydrator.
"I will always do my essential morning skincare routine, no matter how busy or rushed I am. It includes cleanser, toner, essence, moisturiser and sunscreen – in that order, every day. I can't start the day without it."