MECCA Collectiva is our inspiring set of tastemakers from around the globe. From skincare routines to makeup edits, browse their MECCA curations.
A decade ago, Tennille Murphy, a Los Angeles-based interior designer and Instagram star, made a major shift towards eating a plant-based diet while eliminating refined sugars, processed food and alcohol. Over time, she realised her skincare routine no longer aligned with her new lifestyle.
"I was putting so much care and attention into the ingredients I was putting inside my body while completely ignoring the ingredients I layered onto my skin – the largest organ of my body!" Murphy explains.
It was this realisation that led her to seek out beauty products made with thoughtful ingredients – and, at the same time, document her journey via her blog and Instagram account – which garnered the attention of legions of likeminded individuals across the globe.
We spoke to Murphy, now in her early forties, about making thoughtful beauty choices, embracing her silver hair and the non-negotiable beauty items she packs to keep her skin radiant while in the air.
I have found so much confidence through self-care, and particularly through caring for my skin.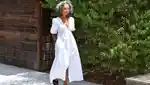 On her signature beauty and fashion style
"When it comes to beauty and fashion, I'm all about enhancing my natural features. I wear clothing that is effortlessly chic while being mindful of styles that flatter my figure. Essentially, I wear what makes me feel beautiful.
"The same principles apply to beauty. I prefer natural makeup with a 'less is more' approach. I don't try to cover up my skin, but rather enhance my skin and complexion. I love that Rose Inc products are multitaskers with skin-loving ingredients. The Skin Enhance Luminous Tinted Serum blurs your complexion without covering it up. The effect is beautiful, luminous skin. I like to use the Softlight Luminous Hydrating Concealer in two shades ['LX150' and 'LX140'] on targeted areas. I've been using ILIA's Limitless Lash Mascara for years. It ticks all the boxes for me. It coats well yet doesn't transfer or flake. I love that it washes off gently."
Finding beauty within herself
"Learning to love myself and embrace all the things that make me unique was something that evolved over the years, especially in the last 10 years or so. There is something so empowering about embracing one's natural beauty. When you find the confidence to love yourself, as you are, there's nothing more beautiful than that.
"I have also found so much confidence through self-care, and particularly through caring for my skin. REN Clean Skincare Ready Steady Glow Daily AHA Tonic is a 'Holy Grail' product to care for my oily skin. Since using this toner I have noticed far fewer breakouts [and] my complexion is brighter and clearer. My body skincare routine is just as important as my facial routine. Nécessaire The Body Serum is the body product I didn't know I needed! My face is oily but let me tell you, my body is super dry."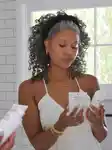 On going grey – and embracing it
"My hair began turning white when I was 23, so just over 20 years ago. Early on, I was embarrassed and even tried at-home dyes to 'spot treat' the white hair sprouting in the front. That wasn't very effective, and I quickly learnt that dingy white hair was not a great look. I also began to get worried that the harsh dyes were ruining my curls. After a few attempts, I ultimately ditched my efforts and simply let the white hair do its thing. It's one of the best decisions I've ever made.
While I do not use any special products to maintain my white colour, I do use very specific nourishing and hydrating products for my curls. I use
hair masks
and treatments roughly once a week. Oh, and very important – I don't use heat styling. Heat is the absolute worst for white hair because it can cause your beautiful white hair to yellow."
The beauty products murphy would repurchase
ILIA Lip Wrap Overnight Treatment: "The ceramic applicator has a lovely cooling effect. I find myself reaching for it throughout the day but especially at night. It leaves my lips hydrated and plump."
REN Clean Skincare Bio Retinoid™ Youth Cream: "Plant-derived retinols are great for sensitive skin, and I find this one to be incredibly effective and hydrating. I love that it's vegan and made from plant-derived ingredients. Bonus points for the container – made from recycled plastic and is recyclable."
Rose Inc Blush Divine Radiant Lip & Cheek Color: "I love a good multipurpose product. I use this one on my cheeks, eyes and lips. Rather than sitting on the surface of your skin, this one melts in for an effortless, natural finish. I love the packaging – not only is it refillable but the design is luxurious. It's the kind of compact you want to carry in your handbag all the time."
Nécessaire The Body Wash Eucalyptus: "This plant-derived body cleanser has a gentle eucalyptus fragrance that is very soothing and relaxing. It feels silky and smooth and leaves my skin feeling refreshed and hydrated."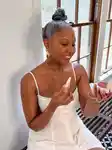 Tips for taking a thoughtful approach to beauty
"You don't have to make the switch overnight - think about your next purchase. For most of us, it's not realistic (or budget-friendly) to throw out everything you own all at once. Instead, when you're needing to make your next purchase opt for a sustainable option. In general, it's a good practice to only try one new
skincare
product at a time, so that works perfectly."
Travel plans and in-flight beauty
"After being locked down for the last few years I'm really looking forward to continuing to get out more. I'm headed to San Francisco in a few weeks. My husband is running a half-marathon so I'll be there to support him, then right after his race I'll head over to Napa [California's famous wine region].
"I never skimp on my skincare routine, but when I travel with my husband, I try to keep my makeup products to a minimum – emphasis on 'try'! We shall see how that goes because I always find it difficult to leave behind even one skincare or makeup essential. Hence, I pretty much always check a bag."
Murphy's top picks in her beauty travel kit:
ILIA Lip Wrap Reviving Balm – Lucid