MECCA Collectiva is our inspiring set of tastemakers from around the globe. From skincare routines to makeup edits, browse their MECCA curations.
Meet Carla Rockmore: a Texas-based jewellery designer turned content creator who instantly shot to TikTok fame upon joining the platform in early 2021, where she's known as 'the real-life Carrie Bradshaw'.
Since then, she's captivated her million-strong following with her unapologetically real and wonderfully bold take on over-50s fashion – right from the inside of her closet, complete with spiral staircase and fireplace, which has become almost as infamous as her eclectic personal style.
As she approaches her 55th birthday, Rockmore looks towards what she describes as a "pivotal age" with excitement and the very same energy and humour we know and love from her styling videos. Here, she reveals why the beauty of being 50 is knowing exactly what you like – and sticking to it.
A woman over 50 knows what she likes. She knows what works for her.
On self-assurance and style
"My signature beauty look is a classic red lip. Depending on the colours of my outfit though, at times a red lip is too much. For example, when I wear a red sweater, I tend to do a more natural lip.
"A woman over 50 knows what she likes. She knows what works for her. I give all women permission to buy the same pair of pants in five different colours and fabrications if the style works for them. That goes for beauty as well. NARS lip pencils really work for me. I must have five different shades.
"I'm very much a creature of habit. When I find something that works for me, I stick with it. If it works, don't fix it!"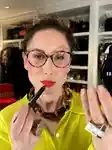 On the evolution of her style
"I think women should reassess their makeup routine every few years.
"I never go to sleep with makeup on, I take the time to moisturise and I exercise at least four days a week. It's the little things that you do daily that end up making the biggest difference – sort of like compound interest!"
I think women should reassess their makeup routine every few years.
"Carolina Herrera, Diane von Furstenberg, Cate Blanchett and Iris Apfel come to mind. These are all women who have – and are – ageing so gracefully. They only get more beautiful with age. It's because they have personal style and are not interested in conforming to society's standards of what is beautiful."
On experimenting with colour
"I think it really depends on your skin tone and your personality. Usually, an extremely fair or deep skin tone looks fabulous with a strong red lip or a bold colour somewhere on the face. But it's best to do something that you're comfortable with. You need to sit well in your skin, and that will reflect in your face. If your lip is too bright and you are uncomfortable with it, start with a sheer tinted gloss before experimenting with an opaque lipstick.
"I really want to commit to some self-tanner on my legs this [northern hemisphere] summer. I'm very excited to try the Isle of Paradise Self-Tanning Water with the brush from MECCA! It's going to be all about the miniskirt this summer. Although I am very comfortable with pale skin, my legs look like two glow sticks, so a little attention is required!"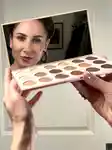 "I'm looking forward to this next stage in my life. I will be 55 this [northern hemisphere] spring, and I think that's a pivotal age for a woman. I'm excited to embrace the exploration of myself in a different way – not as a mum, not as a businessperson, but more as somebody who really sits well in her skin and follows her instincts unapologetically and with conviction.
"I'll be going to Los Angeles in a few weeks. I usually choose a colour palette when I pack. I think about a base colour, an accent colour, and a 'pop' colour, so it's easy to put together a week's worth of looks without bringing too much."
"I'm actually going to try and read [spiritual author]
Eckhart Tolle
. I've never read nonfiction; I'm almost embarrassed to say that – but not really, because I love a good historical novel. I am going to try to read a nonfiction book without my eyes rolling into the back of my head after the second chapter!"