MECCA Collectiva is our inspiring set of tastemakers from around the globe. From skincare routines to makeup edits, browse their MECCA curations.
"Colour is life and energy," explains Catherine Baba, an Australian-born, Paris-based stylist, costume designer and creative director. "My personal style, my life, is very technicolour," she adds.
A self-confessed maximalist, Baba weaves drama and flair effortlessly throughout every facet of her life, from beauty and fashion to her career – a kaleidoscopic creative adventure that has taken her from haute couture maisons to the pages of coveted fashion glossies and even earned her a César nomination (the French equivalent of an Oscar) for her work as a costume designer on the feature film My Little Princess.
Baba took a moment away from the bright lights of Manhattan (where she was currently working) to share her views on beauty, fashion and self-expression with MECCA.
A 'more is more' mantra
"It's obvious I embrace maximalism in fashion. With beauty, however, I prefer minimal products with maximum effect. I love to play; using my lipstick on my lips, eyelids and as blush, or different colours on my lids – especially metallics and glitters.
"My signature beauty and fashion style is very Art Deco-meets-disco glam. Silver screen meets technicolour. Renaissance and baroque eclecticisms. I adore playing with different periods, prints, colours, textures.
"It's also multifaceted and aerodynamic, evolving constantly yet not changing. So is my beauty. I am very faithful to specific products but also love to discover new and updated technology to protect my skin from the sun, pollution, and, with time, enhance my natural features while still embracing the joy of playing and painting my face."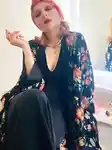 I find inspiration everywhere; it's all around and also within.
Beauty and self-expression
"My beauty ritual is a pure meditative indulgence of pleasure. Whether it is with makeup or creams, beauty is the ultimate form of self-expression and empowerment.
"I always spray rose water mist every morning and night before my beauty routine. It feels and smells divine. [Then] vitamin C and a serum to brighten, lighten, hydrate and tone before my moisturiser.
"Red lipstick is perfect with everything. Depending on my mood and the season, I alternate between different shades of reds, from bright oranges to deep burgundy reds."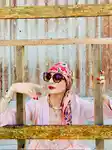 Inspiration is everywhere
"Paris is an extremely cinematic city, visually and emotionally. It inspires a desire to create and celebrate. What I discovered in Paris was beyond my dreams.
"I'm currently sitting in the crown jewel of Manhattan, high in the sky on top of Tribeca looking over all of New York City. The city lights flickering like a huge disco ball, laser beams glittering and shimmering, beauty as far as the eye can see. The view is breathtakingly surreal.
"I find inspiration everywhere; it's all around and also within."