How TikTok changed everything for Carla Rockmore and Chantecaille
January 1 | 96 minute listen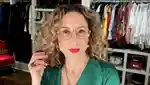 Hosted By Kate Blythe & Zara Wong
Originally published on | April 20
Welcome back to MECCA Talks, your access all areas pass to the beauty, business, and lifestyle experts we call our community.
In this episode, Kate and Zara tap into their TikTok 'For You' pages to unpack two internet success stories: 'the Euphoria foundation' and Carla Rockmore.
The first story we hear is that of the Chantecaille Future Skin foundation, a MECCA icon that flew off our shelves the moment Euphoria makeup designer Donni Davy mentioned it was her go-to base on the HBO show. Alex Chantecaille, VP of sales and promotions at Chantecaille (and daughter of the brand's founder, Sylvie), shares her reaction to the 13-year-old foundation's newfound virality, and tells us how the brand is – and always was – making waves in formulation and environmental philanthropy.
Then, Carla Rockmore – or as Vogue likes to call her, 'the real-life Carrie Bradshaw' – joins Kate and Zara from her now-famous closet to talk TikTok success at age 54, pivoting from jewellery designer to content creator when the pandemic left her in a pickle, and utilising fashion and social media as a form of self-expression. This conversation had us falling in love with Carla all over again!