As a modern woman, I demand a lot from my skincare – and I probably demand even more from my makeup! So, when a makeup formula comes across my desk that offers the benefits of coverage and the ingredients I already love using in my skincare routine, I can't help but wonder (to quote the great Carrie Bradshaw): could this be my beauty dream come true?
Case in point: the latest launch to hit MECCA's shelves from Westman Atelier – the Vital Skincare Complexion Drops. When visiting MECCA HQ yesterday, makeup artist Gucci Westman – the visionary behind the purpose-led, celeb-loved range – told us of her passion for skincare, and how she's blending that into her groundbreaking makeup line.
Made with tsubaki oil (one of the beauty world's most exclusive ingredients!), ginseng and pomegranate extract, as well as a ginger root complex, these skin-tinting drops promise the "coverage of a light foundation with the power of a serum."
How is this magic possible? The aforementioned tsubaki oil – made from camellia flowers – provides rich, much-needed nourishment to your skin by hydrating, plumping and replenishing. In short – it's an easy way to make all skin types look luminous and dewy. As someone who puts the 'combination' in combination skin, with dry, sensitive patches as well as oily areas, I always struggle to find a base product that doesn't leave my skin looking dehydrated and flaky – while also not leaving me looking too shiny. Is it too much to ask that a product leaves me with the low-key glow of Hailey Bieber?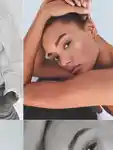 My review, in short? Add these to your cart before they're sold out!
My first impression upon opening up my special delivery from Westman Atelier is that the packaging is GORGEOUS. The bottle is weighted to feel extra luxurious in your hand, and the pale pink/beige tones align perfectly with my own more minimalist aesthetic. An added perk Gucci herself shared with me? The bottle is made partially from recycled sugarcane, a renewable resource to help reduce the product's carbon footprint.
After admiring the appearance from the outside, I twisted the lid and applied the first drop to my hand (expert tip: I prefer applying complexion products with my fingers for a more natural-looking finish). I'll tell you one thing – a little definitely goes a long way! Just one drop (my shade is 'Atelier 0', and there are 20 overall) was more than enough to cover my entire face, and the product settled easily into my skin (that would be thanks to the serum-esque texture). The coverage was sheer, but I found it built up easily when applied, concealer style, in a more focused area with my fingertips.
Perhaps my favourite part of all is the skincare benefits. The inclusion of skin-loving ingredients means the formula makes your skin look more radiant instantaneously, while also helping to improve it over time. When I removed my makeup at the end of the day, rather than leaving my skin dry or sensitive, it felt noticeably… better. Over the course of a week, I noticed my face feeling smoother and more hydrated, with less bumps and texture, even when I wasn't wearing the Drops.
Another thing I really appreciated was the staying power. Given their more lightweight nature (and the oilier zones on my face), I often find that skin tints need to be reapplied throughout the day. But not this one! Gucci Westman definitely brought her knowledge from applying event-ready makeup on A-listers like Jennifer Aniston and Anne Hathaway to this formula; it lasted all day long, with no touch-ups necessary.
My review, in short? Add these to your cart before they're sold out!