Los Angeles-based skin specialist Kate Somerville is the go-to skin saviour amongst Hollywood stars.
Want Meghan, Duchess of Sussex's clear complexion? Jessica Alba's summer glow? Or Adele's fresh and flawless look? Then look to Somerville — she's treated them all.
She's on speed dial for good reason – after suffering from troubled skin as a teenager, she became a licenced aesthetician and opened her own skincare clinic in 2004. Two years later, she launched her eponymous range of products (a firm favourite at MECCA!) – and the rest is history.
"I just love having the chance to transform someone's skin, because it also then transforms other parts of people's life," she says. Here, Somerville shares her beauty journey, what it's like giving facials to celebrities and her 'skinspiration' with The Memo.
I feel that we do miracle work in six weeks and you can get the best results with treatments and skincare in that time.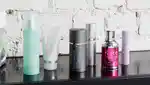 Tell us how you started out in the skincare industry…
KS: "I rented a space with a dermatologist and a plastic surgeon in San Luis Obispo, California, where I learnt all about peels and face lifts. In 1998, I worked with lasers and found the client's skin became so sensitive; I was mixing other people's products together to help the healing process and I thought, I need to start formulating my own. I met a pharmacist who helped me create products designed to address skin problems – from dehydration to sun exposure – and launched the Kate Somerville line in 2006."
You're on the speed dial of Hollywood's who's who. How did you get such a following?
KS: "When I moved to LA I was working with a really prominent plastic surgeon and I opened a clinic for him. He was working with the A-listers and when I opened my own Kate Somerville salon on Melrose Avenue in 2004, a handful of celebrities followed me – and it just caught on."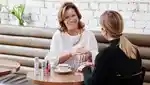 Is there one product celebrities can't live without?
Is there an A-lister that you consider has the most beautiful skin?
KS: "There are so many that have beautiful skin, but a standout would be Adele — she has a flawless complexion that just glows."
How long does it take to turn a client's skin condition around?
KS:
"I feel that we do miracle work in six weeks and you can get the best results with treatments and
skincare
in that time."
Is there a big difference in the skin of women in Australia and LA?
KS: "I think it is very similar because of the sun. Sun damage is a big concern, but I feel that Australians are educated earlier in life about it."
What quote do you live by?
KS: "It's a quote from Finding Nemo: 'Just keep swimming.' I'll never forget when I opened my first clinic, I was painting the wall and I was frozen with panic. I said to myself, 'Just keep going.' It helps me focus so that no task looks too big."
It's your last supper — what do you eat?
KS: "My mum's Mexican shredded beef burritos and a margarita!"
What are the three words that sum you up?
KS: "Tenacious, creative and passionate."