This just in: The Dyson Airwrap™ Multi-Styler has landed at MECCA! And like most people with an internet connection, I've been privy to the hype for what feels like forever. But one way or another, I couldn't bring myself to bite the bullet... until now.
The main reason? I have curly, frizzy hair (and lots of it!), so I've been a bit sceptical about whether it would work for me. Yet, after complimenting one-too-many strangers on how good their hair looked – only to be told it was all thanks to 'the
Dyson
' – and seeing a slew of before-and-afters on TikTok, I decided it was
finally
time to put it to the test myself.
Start with heat protectant
First things first, I washed my hair and spritzed in Hair by Sam McKnight's Save The Do Heat Protectant Spray, which is ultra-light and helps defend against heat damage. Although one of the perks of the Dyson is that it's temperature controlled, applying a spray or serum adds an extra layer of 'just in case' protection. And smooths. And adds gloss – because who doesn't want extra-shiny hair?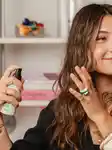 Semi-dry with the brush attachment
As a curly-haired girl, I usually have to give my hair a proper blow-dry with a round brush to smooth it down before going in with a styler – in other words, it's a lot of work. So, only having to semi-dry the hair was a game-changer for me. Unlike the usual curling routine, when using the Airwrap™, the key is to only partially dry it so it's still damp; this helps your curls to hold.
Just remember: the wetter the hair, the better the Airwrap™ will work for you! Keep it to only 70 percent dry at this stage.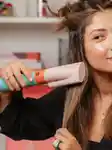 Use the Airwrap™ long barrel attachment to curl
Using the Airwrap™ for the first time felt a little unfamiliar, but you get the hang of it pretty quickly. Taking small sections at a time (not too thick, or the hair won't wrap properly), hold the barrel to the ends of your hair and it will magically wrap around. Rest assured, unlike the braiding machines of the early 2000s, this won't twist or tangle! (If you know, you know.)
Once you've wrapped a section, hold it on the high setting for a few seconds, then flick to the cooling setting to 'set' the curl in place.
Unlike previous editions of the Airwrap™, this new version distributes air in both directions, so you can quickly switch the direction of your curls as you style either side. Clever!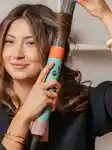 Blow-dry the front section with the round brush attachment
Once I'd 'Airwrap™'ed most of my hair, I finished my fringe section with the round volumising brush attachment. I started by blow-drying the hair backwards and then out to the sides, which helped the front section to naturally blend in with the rest of my curls. Then, I brushed it all out with the Briogeo Vegan Boar Bristle Hair Brush and ta-da! In 60 seconds flat, the fringe was blended, blown-back and giving Beyoncé.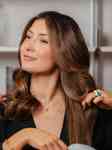 The verdict...
Usually, achieving a party-season blowout would take me considerable time, require the use of multiple styling tools and always inevitably leave me with burnt fingers (and hair!) from the high heat applied. But with a little practice, the Airwrap™ – literally and figuratively – makes styling a breeze. The fact that it's an all-in-one is a game-changer, so if you've been umm-ing and err-ing about whether to treat yourself (or a lucky someone else), you'll be glad you did.