Target body bumps, breakouts, dryness and elasticity with the Mecca Athletica range of active body care that's been designed for your active life.
Fortified with skin-loving ingredients including exfoliating AHAs, botanical peptides and natural fruit enzymes, Mecca Athletica delivers on high-performance body formulas that are as advanced as the skincare you use on your face – because it's all skin, right? And healthy skin doesn't stop at your face!
A tightly-edited lineup (because we know you'd rather spend your time being, you know, active), the products are formulated to create skin that looks and feels lifted, nourished, and glowy, all without you breaking a sweat (you'll get that in barre).
Designed to be used pre and post-workout, or whenever you need a boost, we like to think of this supercharged body care collection as a Pilates class, groove therapy or HIIT session for your skin. Keep scrolling for the details.
Powered by Proteasyl™, a botanical peptide active that's clinically proven to give the skin a firmer and more elastic appearance, and enhanced with bakuchiol (a plant-based
retinol
alternative) to smooth the look of fine lines, this energising body lotion helps to keep skin looking firmer and smoother all at once. The gamechanging formula also contains five percent lactic acid and hydrating actives to gently polish and nourish the skin for a top-to-toe glow.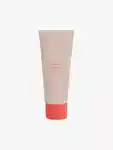 Supercharged with a skin-smoothing blend of eight percent
AHAs
and PHA (the lesser known polyhydroxy acid, dubbed the 'new generation' of AHAs), as well as Siberian ginseng which is known to support the skin's cell turnover process, this advanced body cleanser exfoliates dead skin, unclogs pores and targets bumps and breakouts. Antioxidant-rich starfruit and anti-inflammatory rosemary leaf extracts work together to help soothe irritation, while also diminishing the appearance of uneven skin tone and dryness for smoother, softer, 'glowier' skin.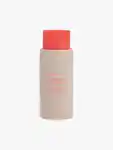 We all know that an
exfoliating scrub
is an express ticket to smooth skin, sloughing off all those dulling dead skin cells that are hanging around on the surface of the skin – and messing up your glow! But don't stop at your limbs: use this enzymatic formula, a blend of fruit enzymes (a natural source of AHAs) and raw cane sugar, plus nourishing botanical oils and panthenol, on your scalp, too, and let it shift all that product buildup and flake it right off.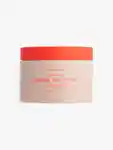 Serums are not just for your face! Get your body in on the action with this advanced formula. It's loaded with three, yes,
three
, B vitamins, including everyone's favourite,
niacinamide
(a hefty 10 percent dose of the stuff, thank you), panthenol and cyanocobalamin, plus nourishing marula oil to targets the appearance of texture and tone (think: minimising bumps and breakouts, and reducing irritation and dark spots).