Growing up on a farm in rural New South Wales with a pathway laid to study law, it's somewhat a surprise that Richard Christiansen has instead found himself at the helm of a globally admired wellness brand that grounds itself in the garden – and across a network of responsibly harvested farms and forests.
Glued to our couches, we salivated as Vogue Living let us inside Christiansen's famously transformed home in August of 2020. Once a "hedonistic enclave" for a pioneering erotic film company high in the Los Angeles hills, Studio KO turned the pink one-and-a-half-bed house and sprawling garden into a "centre for environmental joy and progress."
In addition to Christiansen himself, the estate is now home to over 150 new botanical species (which includes a vibrant orchard of apples, citrus, plums, pears, avocados, macadamia nuts, olives and peaches), and Oprah-adored purveyor of luxe, environmentally minded self-care amenities, Flamingo Estate.
We sat down with the inimitable founder to talk about life after Chandelier Creative (his advertising agency of 20 years), the reinvention that follows burnout and finding pleasure in the garden (and in every other aspect of life). As Christiansen says: "I've been able to get back to the simple pleasures that had always been an undercurrent in my childhood – a place to bathe, eat and bask in nature's most precious gifts."

Spending most of his professional life as a storyteller, it was Christiansen's ingenious idea to place a luxury lens on produce that resulted in Flamingo Estate's flourishing success. When his agency clientele – the likes of Cartier and Hermès – reined in their advertising budgets at the start of the COVID-19 pandemic and the livelihoods of friends whose farms supplied fine restaurants came to a standstill, the creative cleverly pirouetted to produce; his new muse became the orange, the tomato and the avocado.
"In the beginning, we had a core group of creative people who had spent their lives working in luxury goods. It wasn't strategic," Christiansen notes. "It all happened accidentally, but we put that lens on the garden; Mother Nature as the last great luxury house. Let's celebrate it and make it as beautiful and premium as any luxury brand, because it deserves that."
"As Flamingo Estate grew, I approached my life and work with a different intention. I saw elements of my old life crumble, and I was learning to shift my focus to essential things – the garden, good food, a smaller circle of friends, my dogs, my partner, privacy, building a home."
On a mission to make pleasure a priority, the brand delivers on intent-filled products, with words and visuals designed to reinvigorate our lives with joyful daily rituals. As Christiansen says, "In a world that profits off our numbness, it is a radical act to wake up one's senses."
"When you're a kid, you don't have to be told to stand up for your own pleasure – it comes so naturally. The hot baths my brother and I took at night, the flowers my mother would pick for the dining table… These notions of sensory pleasure are the inspirations for what we create. I couldn't wait to run away from where I grew up, and now, in so many ways, Flamingo Estate is my way of coming home."
He adds, "The garden had truly saved my life, figuratively and literally, when I built Flamingo Estate. It was inspiring seeing people who connected to that feeling, and I saw the opportunity where we could grow and develop rituals around those categories."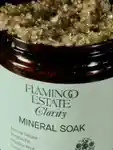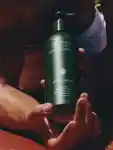 It's not common for a brand's headquarters to also be the founder's home, and undoubtedly, Christiansen has taken the concept of work-from-home to a gargantuan new level.
"Flamingo Estate is my home as well as the brand that developed from it out of necessity. The water from the bath drains directly into the garden, and the products I was using were harming the plants," Christiansen explains.
"We started out just making our own soaps and candles. Then, at the onset of the pandemic, I was connected with farmers and growers around Los Angeles who were struggling to sell their produce, and we began delivering farm boxes all over the city. This network has now grown to over 100 farmers, and together we are making everyday essentials from the garden and for the garden – from soaps and candles to honey and olive oil and rosé."
The founder admits: "Work and home are very much intertwined but I've learned to take more pleasure in my own opportunities for intimacy and privacy. At the same time, the brand which started as an extension of my home and garden, as our network of farms has grown, has become so much more than that."
In its beauty, intimacy, and verdant surrounds, Christiansen's home has also become the backdrop for shoots with the likes of Quentin Tarantino, Margot Robbie and Billie Eilish, a place of celebration for Hailey Bieber and Kendall Jenner, and a friendly jaunt for the founder's friends and collaborators, Chrissy Teigen, Martha Stewart and Ellen DeGeneres. To transport yourself there, take a match to the brand's bestselling Roma Heirloom Tomato Candle, add a cupful of the Clarity Mineral Soak to your next bath, or keep it simple and sudsy with Christiansen's personal favourite, the Garden Essentials Soap Set.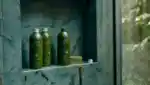 Notions of sensory pleasure are the inspirations for what we create.

Knowledge in depth, not breadth
"My father is a bee farmer, and my mother was always in the garden. Those things have come back to hold such significance in my life," Christiansen shares. "In a time where information is so accessible and everyone seems to know a little bit about everything, I'm so inspired by the people who know everything about their own one thing."
Specifically, he speaks of the admirable expertise of the farmer in Ojai that supplies Flamingo Estate with olive oil, and the indigo farmer they collaborate with in Japan.
"When we started developing our bath and body products, our goal was to get as close to nature as possible. We enjoy these beautiful fruits, vegetables and oils available to us from nutrient-dense soil, and our thought was 'why can't we use those same ingredients in our bath and body products and have cohesive, traceable sourcing across all categories?'. This not only helps support small farmers, but it's also better for our skin and the environment."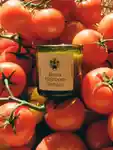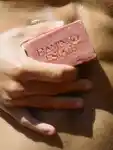 As it did for many of us, global lockdowns forced Christiansen to take a step back from his fast-paced lifestyle and just slow down (he was once US airline JetBlue's number-one frequent flyer, a title that now makes him shudder). It's a lesson he's chosen to abide by as the world returns to a state of 'normal'.
"Opportunities have come up where we could have expanded very quickly or taken a project in an exciting new direction, but it would have gotten away from how we're trying to grow," he says. "I want Flamingo Estate to be in every kitchen and bathroom and living room, and I think we'll get there, but I don't think there are any shortcuts. It's about only selling things grown the right way to support more and more farmers and makers implementing regenerative practices."
Christiansen continues: "It's become radical to relish the slow dive, the deep breath. It's about celebrating all the things that the garden produces, like the lavender or eucalyptus of your soap in the shower, or the drizzle of olive oil on a soft-boiled egg. Allowing yourself to truly indulge in those moments."