No matter how gloomy the day or week has been, a feel-good playlist and a memory-sparking home scent can lift positive energy. (We've also found that chocolate and wine are massively useful – just saying!)
Here's the thing: if you don't try something, anything, to prioritise self-care, those negative or dispiriting energies have a tendency to linger much longer than necessary. So keeping your environment – whether that's your office, bedroom or entire home – spritely and uplifting will help to encourage a healthier and more positive outlook.
We want sunshine and happiness for you (always!), so to help we've compiled a list of the top scents to shift energy and encourage positivity in your space. Rotate through these, surround yourself in their restoring and revitalising aura, and, alongside our suggested scents for productivity and relaxation, you'll be all set.
Vanilla
It flavours birthday cakes, chocolate chip cookies, ice cream and pancakes, so it comes as no surprise that vanilla is one of the most joy-inducing scents ever. Used aromatically – whether that be through cookies in the oven or a fragrant candle [fragrance-candleshomefragrance]– vanillin (the primary component in vanilla) has been shown to uplift, and people have been using it to do so since the 17th century.
Find it in:
Byredo's Bohemia Candle, accompanied by opopanax, rum, labdanum, sandalwood and moss.
diptyque's Vanille Candle, alongside sandalwood and elemi.
Maison Margiela's Whispers in the Library Candle, blended with pepper, benzoin and cedarwood.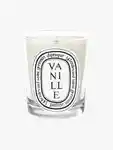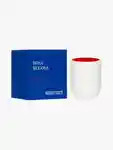 Mandarin
Sweet, spritely and zesty, mandarin essential oil has been around for hundreds of years and known for its energising capabilities. An all-rounder, citrus has a pick-me-up effect, evokes a sense of cleanliness, and reminds us of bright, sunny mornings.
Find it in:
Jo Malone's Lime, Basil and Mandarin Candle, accompanied by lime, basil and amberwood.
diptyque's Dish Soap, paired with orange blossom and basil.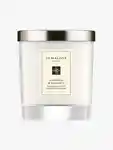 Pine
Evocative of long, invigorating forest walks – and a Christmas-decorated home – pine delivers on more than just a sense of wintery nostalgia. The bright green scent of pine needles helps to balance. There's even a Japanese custom called 'shinrin-yoku', or 'forest bathing', which encourages people to take a walk in the woods in order to create a sense of serenity and zen.
Find it in:
D.S. & DURGA's Portable Fireplace Candle, alongside atlas cedar, smoke, birch and copaiba resin.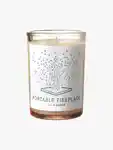 Fresh-cut grass
A whiff of fresh-cut grass will always do you a world of good, whisking your mind away to carefree, sunny afternoons. Freshly-cut grass can bring about a sense of grounding and earthiness.
Find it in:
D.S. & DURGA's Tomb of Eagles Candle, accompanied by clover, cold sea, sea pinks and moss.