It's safe to say the acronym WFH has officially crept into the mainstream.
Whether it's a permanent sitch (remote workers, we're looking at you), or you've found the perfect blend of home and office for you, working from home is something many of us now do on the regular.
While working from home does come with a whole bunch of silver linings – no commuting to the office, no dodgy kitchen toaster, no awkward chats in the elevator – there are some challenges. Like breaking up your day, and your mindset, so that work time and downtime don't meld and merge into one.
One fast (and fabulous) way to set boundaries is through home fragrance. That's because fragrance has the amazing capability to totally inspire your frame of mind and spirit, so utilising it as a tool in your home (as you transition from breakfast, to work, to me-time) is undeniably helpful in making your days feel as dynamic as possible.
So if you're working from your abode, and sometimes struggling with motivation and distraction (us too!), just a whiff of certain scents, like vetiver, ginger and rosemary, may just help to inspire productivity. Let these aromatherapy-inspired notes and scents assist you in getting that to-do list crossed off.
Rosemary
Turns out, rosemary is good for more than just a Sunday roast – its welcoming, herbaceous aroma is the perfect scent to fill your home ahead of a virtual brainstorm with colleagues, or when it's time to write those reports. So if you're about to talk stats, get a rosemary-spiked candle burning, stat.
Find it in:
Byredo's Bohemia Candle, accompanied by rum, geranium, moss, sandalwood and vanilla.
Flamingo Estate's Climbing Tuscan Rosemary Candle, where the herb plays a starring, and solo, role.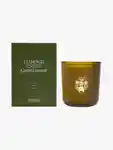 Vetiver
This earthy, woody note is often compared to the smell of grass on a warm day. Fresh and green, it's one of those scents that'll bring the outdoors in. It's the perfect scent for when you need to buckle down and get it done – especially when you have housemates or family members lingering around.
Find it in:
Byredo's Vetyver Hand Wash and Lotion, accompanied by pomelo, jasmine petals and violet.
diptyque's Orange Ambre Candle, alongside incense, spice, patchouli and citrus.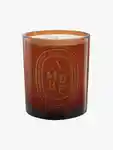 Mint
Spritely and refreshing, like a palate cleanser between meals, the scent of peppermint can be useful when demanding tasks are ahead. It's just as invigorating in the air as it is applied to the skin. While not ideal, if you find yourself working into the night, or to an impending deadline, welcome minty notes into your home for some mental sustenance.
Find it in:
Malin+Goetz's Mojito Candle, accompanied by lime, bergamot, jasmine, freesia and sandalwood.
diptyque's Anti-Odour Candle with Basil, paired with basil and tomato leaf.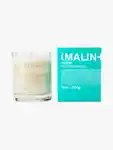 Cinnamon/spice
Sure, the smell of cinnamon might have you salivating at the thought of freshly baked cinnamon scrolls. But cinnamon and similar warm spices also make great additions to diffuse into your home if there's a lot on your to-do list, and if you plan to power through back-to-back, fast-paced meetings.
Find it in:
Byredo's Chai Candle, accompanied by ginger zest, clove buds, violet and birch tree.
Maison Francis Kurkdjian's OUD satin mood Scented Candle, alongside violet flower, rose, geranium and oud.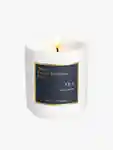 Ginger
Warm and spicy, with a subtle kick, ginger is infamous, whether that be by way of a hot ginger tea, or its peppery aroma filling your home. We're all spending more time in front of our digital devices, which means more tired and heavy eyes, and ginger is a super scent for lifting the spirits and serving up a boost of zing. It's the perfect aroma to help you power through a deadline, or complete repetitive tasks.
Find it in:
diptyque's Gingembre Hourglass Diffuser, a home fragrance of pure, freshly cut ginger.
Tom Ford's Tobacco Vanille Candle, accompanied by tobacco leaf, tonka bean, fruits and cocoa.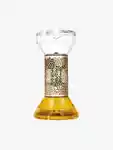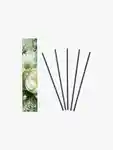 Coffee
They may not realise it, but those that flee to cafés to work and study have the right idea – we're talking about the intoxicating aroma of roasted beans, and that's before you've even taken a sip. If you're in the mood to make power moves on a call, a candle with coffee notes will not only transport you from the confines of your four walls into the inviting aromas of your local café, but will undoubtedly help you in kicking daily goals.
Find it in:
D.S. & DURGA's Breakfast Leipzig, accompanied by pastry, tobacco leaf, butter and leather upholstery.