Trailblazing architect Tatiana Bilbao proves we need more women in the field
January 1 | 37 minute listen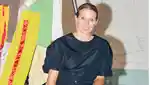 Hosted By Kate Blythe
Originally published on | October 19
Welcome back to MECCA Talks, your access all areas pass to the beauty, business, and lifestyle experts we call our community.
In this episode, Kate chats to groundbreaking Mexican architect and inaugural MECCA x NGV Women in Design Commission artist, Tatiana Bilbao. As the founder of one of the few sole female-led architectural practices operating at a global scale, Tatiana highlights the positive impact of women on the profession.
Her installation – now showing at the National Gallery of Victoria until January 29 2023 – is a physical expression of her aim to free architecture from the conventions of the of the 20th century and explore the impacts of the commodification and privatisation of domestic labour (especially on women). It combines textiles with architectural structure, while drawing on her studio's use of collage, sketching and model making. Hit play to hear more about Tatiana's pioneering projects.