MECCA Collectiva is our inspiring set of tastemakers from around the globe. From skincare routines to makeup edits, browse their MECCA curations.
Summer is eternal for creative director and proud Aboriginal and Torres Strait Islander woman Nina Fitzgerald, who feels truly at home in the beautiful city of Darwin in our country's far north. From her attraction to natural beauty products to her effortless sense of style, everything about Fitzgerald's uncomplicated aesthetic works in perfect harmony with the region's relaxed rhythm of life (and those soaring temperatures!).
Here, her hot tips for summer-proof skin and why a stripped-back approach to beauty makes all the difference in Australia's most humid city.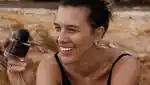 On how summer influences her signature style
"It's always summer in Darwin, so I can wear the same things all year round! Loose silhouettes are my favourite – maxi dresses and oversized men's shirts – and natural fabrics.
"When it comes to beauty I also opt for natural products as best I can – with high-quality ingredients that are kind for the planet and my skin. And perfume – always. I am obsessed with the sweet, heady aroma of Byredo's Tobacco Mandarin!"
High humidity calls for low fuss looks
"Summer is our wet season – it's crazy humid when it's not raining. I don't really wear much makeup at the best of times, so at this time of year it's
barely-there fresh skin
, with
lightly bronzed cheeks
and some extra definition on my
brows
, courtesy of ILIA. Everything must be so light – makeup and my
Goldfaden MD moisturiser
– otherwise you just sweat it off the moment you put it on. 'Less is more' takes on a new meaning up here."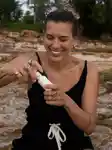 Summer looks like breezy beach days and glowing skin
"I've taken some time out to visit family and friends in Melbourne, Byron Bay and the Gold Coast. At this time of year when we can't swim in the ocean back home, it's so beautiful to get a daily ocean swim in! Anywhere I go I always have my
Byredo fragrance
, a sarong and a good book or two. With all the time in the sun, I also made sure to bring along a Sans [ceuticals]
body exfoliator
and
body oil
. Who doesn't like glowing summer skin?"
Beauty for me is also holistic – it's just as much about mental wellbeing.
"An installation I've developed for Melbourne Fashion Festival 2022 called Thread Count, which will share the powerful stories of First Nations fibre artisans of the Top End – the master weaving women who have been threading together the stories of their ancestors for generations upon generations. I'm super excited about it!"
2022 Beauty Resolutions
"For me, this is mostly a commitment to SPF [skincare-sunscreen] every day – and not just on my face, but my whole body (UV protection is essential in Darwin) – and continuing to nourish my skin with good quality serums and moisturisers, like the Drunk Elephant Virgin Marula Luxury Facial Oil.
"Beauty for me is also holistic – it's just as much about mental wellbeing. Taking time to look after myself – meditating, exercising, getting enough sleep, even a small act like lighting a beautiful Byredo candle to relax, will be the things I continue to focus on this year."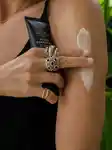 "I'm reading Upheaval by Jared Diamond and Truth-Telling by Henry Reynolds. I'm also watching the latest Spider-Man movie and listening to the Flight Facilities
Flight Deck
app."